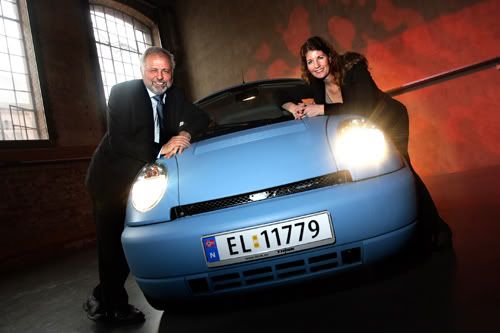 (TH!NK CEO Jan-Olaf Willums and Design Manager Kathinka Von der Lippe)
TH!NK, a Norwegian electric car producer, is ready to give America their first taste of an affordable, mass-produced, all-electric vehicle in 2009 thanks to a partnership with Green-leaning investors Kleiner Perkins Caulfield & Byers (http://www.kpcb.com) and RockPort Capital Partners. While TH!NK has been producing EV's for the Scandanavian roads for a number of years now and has enjoyed other partnerships, including a stint with Ford, this will be their first forray in North America.
The first car of their three current designs that will be sold by TH!NK North America will be the TH!NK City. To start out the company will focus its sales in California, but if the car sales go as expected there will be more states to come we can imagine. The TH!NK City is built from materials that make it 95% recyclable and has a range of 110 miles and reaches a top speed of 65 mph. There are two battery options available to the TH!NK City buyer: lithium or sodium.
As with the all electric car system Project Better Place that is taking place in Isreal, the owner of a TH!NK car will pay a maintenance fee for the batteries used in their cars. In exchange TH!NK will assume all responsibility associated with their battery packs, including swapping them for new batteries if necessary. The fee also covers the body panels of the car; which they describe as dent resistent and rust proof. The proper support and gentle aging that takes place over the cars lifetime is one of the reasons TH!NK believes their cars will retain a high resale value over time. 
…Photo Galleries to follow…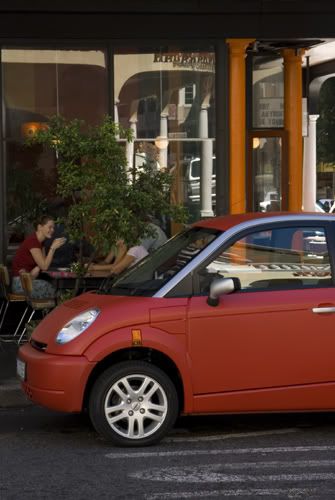 Ofcourse the first thing most observers will note about the TH!NK City will be its deminutive size. In the eyes of many road tested American's who are quite conditioned to equate vehicle size with safety the TH!NK City, much like the Smart ForTwo, is too small and presumably unsafe. However, the TH!NK City was engineered with both the European and US safety standards in mind. With impact crumple zones, steel reinforced doors, air bags and a stiff passenger compartment it seems that safety has been on the minds of the designers from step 1.
What came before safety was the intention to provide its buyers with a Green car that produces zero emissions beyond those incurred by the local electricity provider. Those areas receiving power via wind or solar energy would give the drivers of a TH!NK vehicle the peace of mind that they are producing zero carbon emissions from their daily excursions. Another freedom enjoyed by a TH!NK City driver would be in passing all those gas stations with their per gallon prices of nearly $4.
[myginpage=04242008-thinkcity]
As fuel prices approach critical highs the the introduction of all electric vehicles such as the TH!NK City are arriving at just the right time. If given the proper price point on the North American market such electric vehicles have the opportunity of becoming a primary commute transport for many. That is if enough consumers have grown weary of their increasing fuel expenditures and are ready to embrace the new breed of cars that are coming out.
While the concept of electric vehicles may seem new to some, TH!NK has been in business for 17 years producing electric vehicles. The new TH!NK City is the 5th generation electrical vehicle to come from the Norwegian company. So do not mistake TH!NK North America's efforts as some brash start-up looking to capitalize. While they may be able to capitalize on a market thirsty for mobil alternatives, TH!NK knows its best means of thriving will be to provide a product that meets the rigors and requirements the market demands.
A potential second vehicle that may follow a successful debut by the TH!NK City would be the 4-door TH!NK Ox. At first glance it appears that the TH!NK Ox offers styling cues remenicent to the Toyota Prius and even Honda's latest hybrid concept. The major distinguishing characteristic between the TH!NK Ox and its hybrid driven bretheran is ofcourse that the TH!NK is ALL battery.
There are also particular advances destined to solidify the TH!NK Ox as an industry leader. The TH!NK Ox is highly connected, featuring real time navigation, web, e-mail and open source interfaces, intelligent and sustainable driving and route calculations. It also comes equipped with a solar panel strip across the roof of the car aimed to keep the cockpit a steady temperature even while the car is turned off.  The TH!NK Ox will come in market driven variations including Taxi service, passenger car and even a sporty-coupe with special Lithium batteries targeted toward performance driving.
TH!NK Ox
[myginpage=04242008-thinkox]
TH!NK North America looks to be a force to reckon with not only for the Green-minded people of California and Scandanavia, but for drivers in all parts of the world. While that may seem like a bit of hyperbole to some it may be an inevitable future as fuel and other energy costs continue to spiral beyond out control and drivers scramble for cost efficient alternatives. If sales are not as strong coming out of the gate maybe TH!NK should consider a partnership with Smart USA. They could build an all electric TH!NK-Smart-Too.