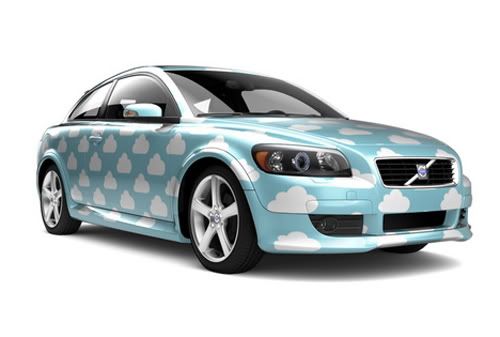 The idea for Volvo's full-body decorative film is curious at best. If you think of it as an opaque clear-coat to protect your cars paint from chipping and scratching then you might be able to sell yourself on it. However, when you take in the full array of designs available to the Swedish only market in which these decorative wraps are selling they immediately evoke images of Pez dispensers and Pixie Stix. Now while I may be 34 and still enjoy those tasty candies I am not sure a cute C30 2-door with fluffy clouds stuck to it is quite what I am looking for.
Volvo is offering the service to its Swedish customers at a cost of 18750 Swedish Korona or about $3100 US. Straight from the production line your new C30 will travel to the independent contractor Volvo has hired to apply the body film. All the buyer has to do is go to their website or dealership and select the wrapping they desire. Check out the website for yourself to see the many flavors available.
The target market for the Volvo C30 has always been the young-hip crowd who seek stylish, sheik cars that before the C30 were more than likely shopping elsewhere. Volvo has never been the monaker for Sheik before. However, with their new body wrapping it seems that Volvo has taken a lessen from the Tobacco industry by advertising their product to the younger generation… those still not legal enough to take the keys and cruise their pretty striped C30 to the local mall.   …Check out a sampling of some of Volvo's C30 Body film after the leap…
There was a time where a C30 seemed like a splendid alternative for my next car purchase. Dropping my crush on horsepower and throaty V8's I would settle down into a lifestyle of thrifty sheik-ness. However, now the realization has become clear that I will never be invited into Willy Wonka's Candy Factory, old comic books should stay in storage, pixie's and fairy dust remain in the trust of children and that I am not the target market for the Volvo C30 and its Sweet Candy Coating full-body film. But then again…  Does it come in Satin Black? …Maybe Satin Black with some tiny Skull and Crossbones? …Hmmm, this could be fun.
[myginpage=04072008-c30bodyfilm]
Source[AutoSavant]