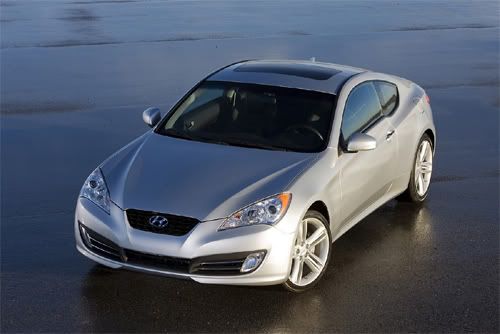 The buzz of anticipation is over as the Hyundai Genesis Coupe production model gets to spin its tires at its own New York Auto Show unveiling. Swirling past the crowd of clicking photographers the Genesis Coupe pranced about, one in silver and one in red, to an old stand-by of a Van Halen classic pumped out by a cover band while narrowly missing the barriers that sealed off the staging area.
Hyundai has been discussing their production intentions for the Genesis Coupe for some time, but now the numbers have been pegged down and are official. With a 2.0 liter turbo-charged four-cylinder model you are looking at 212-hp to get you moving. However, if you are the type that needs a bit more the DOHC 3.8 liter all-aluminum V6 will provide you with 306-hp.
The production version of the Hyundai does not carry the same aggression and flare of the Genesis Coupe shown at the LA Auto Show, but that was to be somewhat expected. With a starting price starting around $21,000 and the 306-hp V6 starting around $25,000 you are sure to have a little coin left over for what is sure to be a plethora of aftermarket accessories to choose from.
For being Hyundai's first attempt at a rear-wheel drive sports coupe the Genesis Coupe is far from a disappointment. Those who are complaining about plastics on the interior are more then welcomed to spend much more money on other cars… that is why we have so many alternatives. Take a look at the videos provided by AutoBlog of the official unveiling of the Hyundai Genesis Coupe on the next page, and following that will be Hyundai's official Press Release.
PRESS RELEASE:

ALL-NEW HYUNDAI GENESIS COUPE: A NEW BENCHMARK FOR AFFORDABLE 300-HORSEPOWER SPORTS COUPES

NEW YORK, March 19, 2008 – Hyundai unveiled Genesis Coupe, a new benchmark for affordable 300-horsepower sports coupes, during a press conference at the New York International Auto Show today. The 2010 Genesis Coupe is a purpose-built rear-wheel drive sports coupe featuring two performance-focused engines – a 212-horsepower 2.0-liter turbocharged four-cylinder engine and a range-topping all-aluminum 306-horsepower, DOHC 3.8-liter V6 engine. Genesis Coupe is scheduled to join the Hyundai lineup in the spring of 2009.

Following the introduction earlier this year of the rear-wheel drive Genesis sports sedan, Genesis Coupe is Hyundai's most dynamic performance car ever and the second consecutive all-new model introduction from Hyundai appealing directly to the car enthusiast. Genesis Coupe uses the same flexible rear-wheel drive architecture that was originally developed for the Genesis sports sedan.

Genesis Coupe employs a MacPherson strut dual-link front suspension and a five-link rear suspension setup. Both engines are mated to a standard six-speed manual transmission. The Genesis Coupe 2.0t (2.0-liter 4-cylinder turbo) offers an optional five-speed automatic with SHIFTRONIC® while the 3.8-liter V6 offers a ZF six-speed automatic transmission with SHIFTRONIC to handle the additional torque.

"We think our entry-level Genesis Coupe 2.0t, with its unique combination of rear-wheel drive and four-cylinder turbo power, offers an intriguing alternative to existing front-wheel drive sports coupes," said John Krafcik, vice president, product development and strategic planning, Hyundai Motor America. "The 3.8-liter version of Genesis Coupe takes things to an even higher level, rivaling the capability of premium-performance coupes like Infiniti G37."

Genesis Coupe was shown as a concept at the 2007 Los Angeles Auto Show and its transformation from concept to production reveals that its signature design features have emerged intact. Genesis Coupe is also unmistakably linked to several Hyundai concept cars. The powerful curves, surface detail, and "Z" bodyside lines come straight from the HCD9 Talus and the HCD8 sports coupe. Genesis Coupe's arching roofline and tapering greenhouse highlight the exterior profile and emphasize the car's broad shoulders and wide stance. Genesis Coupe rides on standard 18-inch alloy wheels or optional 19-inch wheels, both delivering a bold stance and aggressive handling.

In keeping with its mission to be the most exciting, affordable sports coupe on the road, the Genesis Coupe boasts a cockpit designed to enhance the driving experience. An information display screen, features an outside temperature reading, audio system information and HVAC settings. Analog gauges include a large speedometer and tachometer positioned so the driver can immediately access critical driving information. The instrument cluster features Hyundai's signature blue gauge illumination.

Music lovers will welcome the inclusion of standard auxiliary input jacks (3.5 mm mini-jack and USB input) to accommodate and charge audio devices such as iPods®. Among the other refinements are an Infinity audio system, sport bucket seats and two-stage front seat warmers. Genesis Coupe also offers the convenience of a proximity key and push button starter.

The 2010 Genesis Coupe includes a wide range of both active and passive safety features. Standard safety equipment includes driver and front passenger advanced frontal airbags, along with front seat-mounted side airbags, side air curtains, active front head restraints, four-channel ABS with Electronic Brake-force Distribution (EBD), and Electronic Stability Control (ESC), one of the industry's most effective life-saving technologies.

GENESIS COUPE SPECIFICATIONS
Configuration: Front engine, rear-wheel drive
Wheelbase: 2820 mm / 111.0 inches
Overall length: 4630 mm / 182.3 inches
Overall width: 1865 mm / 73.4 inches
Overall height: 1380 mm / 54.3 inches
Wheels: 18-inch or 19-inch five-spoke
Engine types: 3.8-liter V6 or 2.0-liter 4-cylinder turbo
Est. horsepower V6: 306 @ 6,000 rpm (regular fuel)
Est. horsepower V6: 310 @ 6,000 rpm (premium fuel)
Est. torque V6: 263 lb. ft. @ 4,700 rpm (regular and premium fuel)
Est. horsepower 2.0t: 212 @ 6,000 rpm (regular fuel)
Est. horsepower 2.0t: 223 @ 6,000 rpm (premium fuel)
Est. torque 2.0t: 217 lb. ft. @ 2,500 rpm (regular and premium fuel)
Block & head materials: aluminum for both engines
Valvetrain: DOHC for both engines
Valve timing: continuously variable valve timing for both engines (Dual for 2.0t)
Estimated 0-60 mph V6: under 6 seconds
Transmission types: 6-speed manual, 5-speed automatic (4-cylinder) or 6-speed manual, 6-speed automatic (V6)
Front brakes: 12.6-inch (standard) 13.4-inch (Brembo package)
Rear brakes: 12.4-inch (standard) 13.0-inch (Brembo package)
Front calipers: single piston floating (standard), monobloc four-piston (Brembo package)
Rear calipers: single piston floating (standard) monobloc four-piston (Brembo package)
Limited slip differential (Optional)
Est. top speed: 149 mph (V6), 137 mph (2.0t)
Base curb weight: 3549 lbs. (V6); 3439 lbs. (4-cylinder)