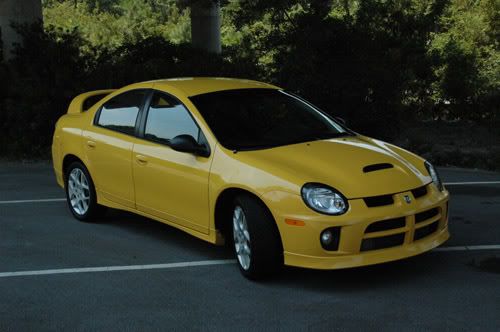 If you are looking for a used car that is sporty and fun and you are on a tight budget a 2003 or 2004 Dodge Neon just might be right for you. Unlike the new Caliber SRT-4 the Neon version actually was sold for under $20k new. And where a new Caliber SRT-4 comes as a 280-hp box on wheels the Neon version actually comes with some softer, aerodynamic (there goes that word again) lines but with an aggressive front clip. The joy of the Neon SRT-4 is in the driving, and for a modest amount you might be able to find an unmolested model for anywhere between $11-13,500.
That is exactly what a friend of mine accomplished by making his SRT-4 purchase on eBay. His final auction price for the 2003 Neon SRT-4 pictured above was $13,900 and turned out to be quite the purchase. The car arrived with just over 19,000 miles on it and was in great shape. Despite my friends good fortune I would typically recommend taking a test drive before buying and also inspecting for poorly installed aftermarket parts.
Driving the Neon SRT-4 is quite a fun experience. The 2.4 liter Turbocharged engine that comes stock with 215-hp and 245-ft.lbs of torque is lively and drives you spiritedly into the turns and straightaways. The shifting action is swift and easy with a short gate between throws. The seats hold you snug in place while the suspension gives you a good feel for the road. While it may not have nearly the 300-hp as many new cars seems to be targeting the Neon SRT-4's light-weight body, agile maneuverability and high torque can easily give it the jump on many more powerful cars with unsuspecting drivers. And with the number of aftermarket parts available your purchase of a Dodge Neon SRT-4, while it may be sufficient on its own, can be just the beginning. Check below for a breakdown of the aftermarket parts that have gone into the Neon pictured below in the Gallery.
While the initial introduction of the Neon design did not necessarily ring-out "buy me" to a lot of car enthusiasts, as it is an acquired taste, the SRT-4 package does give it some added appeal. What also improves the perception of the Neon SRT-4 for some… okay, for me… is the failed design of the very square Caliber and Caliber SRT-4. There is no hoodscoop or ground effect that is going to make the Caliber attractive in my eyes. The choice is ofcourse yours and yours alone, but for a fun car at an attractive price and with limitless possibilities a 2003/2004 Neon is an option worth entertaining.
Special Thanks to Brad for his time, input and for the test drive of his SRT-4.
Aftermarket Add-on's:
Mopar Blow-off Plate
BWoody H Brace and Traction Bars
Short Throw Shifter
Needswings 3″ Downpipe with Cutout
Modified Hood scoop (for more air flow)
And Mopar 3D Tail Lights for Visual Effect.
Comes Stock with:
2.4L Turbo 16 Valve Twin Cam Engine (03's were rated at 215hp and 245ft-lbs tq)
17″ Alloy Wheels
160mph Speedo
0-60 in as little as 5.6 Seconds (5.8 is what Dodge said, traction is a huge factor)
Actual gas mileage 22 city, 30 highway (Dodge rated it at 29city/36highway)
Boost Between 11-14psi depending on area.
For more details on a Neon SRT-4 click here.
[myginpage=09022007-srt4]