…But a rather quiet "God of Thunder" ThoRR has become (comic book reference… could not resist).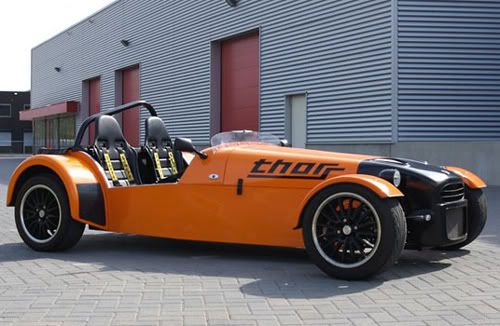 Evisol is yet another Scandinavian company that is looking to provide EV solutions to the growing problem of global high fuel costs. Unlike like the Norwegian company TH!NK that is bringing cost effective budget rides to North America this Fall, the Netherlands based Evisol is dishing out a bit more wind-in-the-face fun with their all electric ThoRR roadster.
Inspired in design by the Lotus 7 roadster chassis the ThoRR roadster is what a primitive roadster is all about, except it derives its motive power from electric motors fueled by lithium batteries and not V8 engines fed on gasoline. The electric powered motors give the ThoRR a rather ominous, erie quiet as it propels down the road (as evidenced in the video that follows).
We use the term primitive because the ThoRR roadster does not have any of the refined attributes of cars today. The concept behind the ThoRR roadster is simplicity, but it is best described on the website itself:   "This concept stands for high performance through simplicity and light weight. Because of the absence of ABS, power assisted braking, power assisted steering, any form of sound absorption, even a roof and a windshield, only the basics of a car remain." [ThoRR.eu]
That simplicity holds true when you look at the weight of the car and its maximum power output.
The ultra light ThoRR comes in at 755kg (1,665 lbs) total weight with the batteries taking up 280kg (551 lbs) of that total. The batteries contain enough juice under steady driving conditions to travel 200 km (124 miles), but under performance driving conditions that distance is cut to 140 km (86 miles). With that said and with a high output the equivalent of 272 hp and 332 ft lbs of torque, the ThoRR should be able to achieve a 0-to-60 in the 3 second range.
Evisol professes to a commitment to versatile electric transportation as a company philosophy as they seem committed to applying their ideas to both land and water. Their website marries two simple conclusions into one marketable solution:
Electricity = Versatility 
Transport = Versatility 
thus Electricity x Transport = Versatility Squared
The ThoRR roadster exemplifies that equation, to say the least.
[myginpage=02302008-evisolthorr]