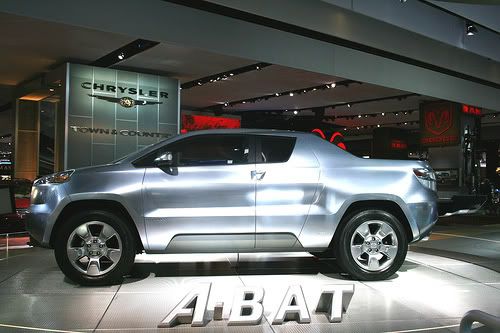 Toyota executives are playing the wait-and-see game with their A-BAT Concept. After its debut at the Detroit Auto Show in January and its showing at the Chicago Auto Show this past week the future of the A-BAT is in the hands of the consumer… for now.
As their current trucks have grown substantially in size and are selling well Toyota is looking for a truck to fit in on the small scale. As the auto market is beginning to swing back toward smaller cars all of the players in the industry are looking for a way to fill the void, but it is Toyota's A-BAT that was first to step up with something different and say, "Pick Me!"
A-BAT Photo Gallery after the link
So as this years auto show pop up and as the internet forums chatter about Toyota will be listening and watching to determine if the A-BAT is the right trucklet to fill the small truck vacancy. This is not the first time Toyota has been moved by viewer response. The FJ Cruiser made its way from pure concept to production car by riding the wave of the public's positive feedback. The FJ Cruiser borrowed from Toyota's FJ past for its general shape, but molded those old bones into a new, modern take on the old faithful original. At a time when Retro was just getting moving it was the right time for the right concept.
For 2008 the concepts coming about seem to be focused on a more futuristic tinge and filled with new environmental and hybrid technologies. With its hybrid engine and low emissions the A-BAT is a green machine that still makes room for new technologies in the cabin. Keeping you connected to the world while out exploring it the A-BAT comes with wireless internet, a battery pack in the center console and a solar panel on the dash to charge the battery pack. The navigation system is designed to also draw power from the battery pack… just in time for those "Oh, Crap!" occassions we suppose.
The Toyota A-Bat appears to be the result of a stew brewed from the Chevy Avalanche, Toyota Prius, with a pinch of El Camino for spice. All those ingredients are boiled down to their bones and molded into a modern uni-body design for tomorrow and awaiting word on their future.
So what do you say car buying people? Is the A-BAT a winner? Does it have what it takes to fill the small truck void and possible lure over some SUV or CUV buyers?
[myginpage=02122008-abat]
Source[CarConnection]