Toyota is holding a special Twitter event for their 2010 Toyotathon Shareathon. In a nutshell, if you buy  a new Toyota and Tweet about it, you will get a $500 prepaid debit card. So if you just bought a new Tundra or Prius, be sure to take advantage.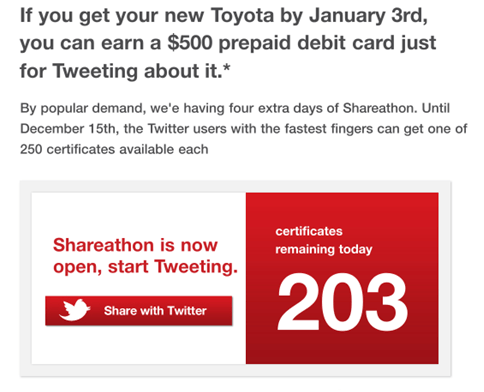 Savvy shoppers can get this free $500 gift card simply for making a purchase that was, in all likelihood, already planned and anticipated. This gift card has no limitations that a typical Visa would not have (meaning, that like a traditional Visa, it is not transferrable).
People in the blogosphere, as well as on Twitter, and other social media sites like Facebook, have been buzzing about this deal that's just about to end. Luckily, the bargain has been extended for late Christmas shoppers, so that anyone can register to receive a gift card before December 16th.
As long as the registered patron buys a Toyota before January sixth, there are 250 chances to get a debit card each day!
Most people online believe the Toyotathon Shareathon has already ended, because it was scheduled to have ended earlier; thus, the chances of being one of the 250 daily winners are greater.
So, if you're buying a new Toyota, be sure to Tweet about it at ToyotaShareathon.com and get $500 Back!!