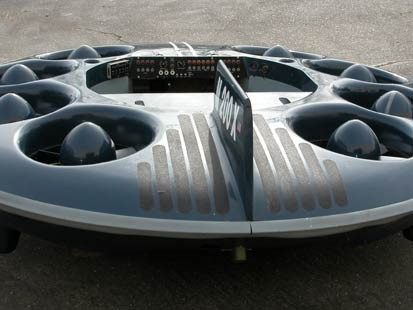 Moller International has announced that it has begun production on a flying car called the M200G Volantor. The saucer shaped car is built to launch and land vertically and to fly 10 feet off the ground with a top speed of 50mph. It is reported to be able to fly over any terrain with a flight duration of 40 to 90 minutes. If you are looking to use this to avoid that morning traffic you better have a short commute and plenty of discretionary income; say $125,000 in discretionary income.
One of the exampled uses for the M200G is a yacht scenario. If you are out on your yacht along the coast and wanted to spend some time on the beach you can simply hover your way over there. But with a weight limit of 250 pounds the car would potentially be limited to to thin girls or one average man.
Moller International reported that it has received the deposits for orders of 67 of these Jetson-esque saucers. While its shape may not scream practicality its novelty may at least yield more of that movie-stunt action people seem to enjoy so much. Ofcourse after watching the video of the car in action it might take a lot of camera or CGI work to give the car more ACTION!