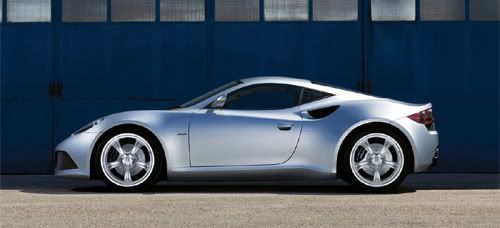 Far from just riding the tide of the small roadster set the Artega GT exemplifies what a speedy smaller coupe can be. With handling and performance as its primary objective and a stylish design by Henrik Fisker. At this weeks Geneva Auto Show attendees are able to bear witness to the final production version of the Artega GT as they are now ready to fill orders for the sports coupe.
Punching the clock at 300-hp the rear-engined 3.6 liter Volkswagen engine is expected to give a zero-to-sixty time under five seconds. With its thick shark-like front end, very reminiscent of the Porsche Boxter, and its slicked-back tear drop windows the lines of the Artega GT give you a direct impression of where it expects the wind to go. The Artega GT hides no secrets… nor does it hide much luggage.
The only available storage space is the area behind the seats and accessed via the cabin. From the Artega site you can see that there is space enough for one bag of golf clubs. While that is truly enough space for two weekend getaway bags, totting around the belongings of its occupants is obviously not the main objective of the roadster-esque two-seater.                   …Photo Gallery to follow…
We are quite fond of the Artega GT even if it is not scheduled for sale in North America. In Europe the regular model can be yours for 75,000 Euros. An introductory run of 99 Artega GT's will also be available with special badging, numbering and a few distinctive features for 79,790 Euros. No matter which Artega GT you choose you really cannot go wrong.
[myginpage=03052008-artegagt]