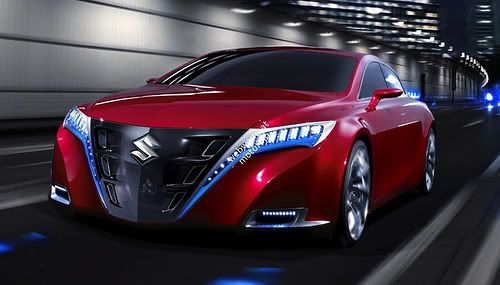 With the Suzuki Kizashi 3 Concept about to debut at the New York Auto Show at the end of this month let us take a look at the prior two concepts, Kizashi 1 and 2, to get an idea of where they have come from and where they are going.
Beyond the exterior design Suzuki has not offered up much on their Kizashi Concepts. The interior of the car remains a mystery and its powertrain so far is powered only by speculation. So the digitally rendered concept videos we have below do little to divulge what has remained a guarded secret in the Suzuki camp, but they do give an impression of what they expect their concept car to be when it reaches completion.
Video 1. Suzuki Kizashi 1

Check out the second video of the Kizashi 2 and full galleries of both cars after the leap.
Video 2. Suzuki Kizashi 2

Take a look at the two concept galleries below and let us know what elements of the two you prefer. Both Kizashi concept are distinctive in appearance and either would be a severe and welcomed departure from Suzuki's less than ordinary annual offerings. We shall see at the end of March in New York if the Kizashi is nearing the end of its design study and will be production feasible.
Suzuki Kizashi 1
 [myginpage=03142008-kizashi1]
Suzkuki Kizashi 2
[myginpage=03142008-kizashi2]