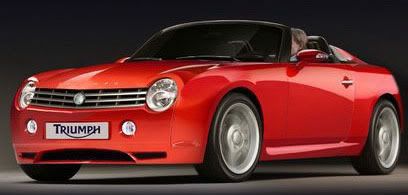 As BMW announced that it was looking for a marketable automotive name to expand their brand total to four there is some speculation out there that the British Triumph just may be that brand. BMW acquired the automotive brand in 1994 when the bought MG Rover. With the retro movement still a trend in the auto market and after the Mini Coopers success for BMW it could be a logical conclusion that the Triumph would make a good choice. However, stepping into the speculation business is a risky proposition.
To complete their own speculation AutoExpress did their own renderings of what BWM could do to modernize the retro look of the Triumph. The rendering at the top of the screen here is how they see the Triumph as possibly coming together. Next up from there would be insuring that the market is there for a new Triumph. Sure the British may have a special place in their heart for the brand but can it find a worldwide appeal to make the investment profitable for BMW. Maybe those that are Triumph eager may want to start themselves a write-in campaign to BMW.
Until BMW comes right out and says the Triumph is on its way and a true concept car is spied traversing the test tracks of Germany all we have is our speculation. And speculation, although tantalizing, often leads to eventual disappointment… or gold if you are a good panner. The Triumph would be a fun brand to have back and I can see a number of older and younger fans of the car who would be excited to see its return. The burning question then is would they buy it? A lot of us love the Mini, but many of us who do just cannot see ourselves driving the pint sized car.
What are your thoughts on a Triumph return? Would that be the right move for BMW or would acquiring the likes of Volvo or Jaguar and Landrover be a more prudent venture?
Source[autoexpress via carscoop]