This Saturday some new automotive regulations will be taking affect that are going to provide the dealership walking customer better information and more accurate information than before. Appearing on the sticker of all new cars will be the newly calculated fuel mileage ratings gauged by the EPA for real world driving. Also, to make their first appearance on a cars window sticker will be the NHTSA's official crash test ratings for all new cars that have undergone testing. There are also two new safety features that have now been made mandatory for the 2008 model year that will take affect on Saturday. All-in-all Saturday will be a most busy day.
The change in the EPA standards for measuring fuel mileage have been talked about for a while now. Some 2007 cars carried additional stickers that indicated both the old mileage ratings based at 55mph highway and the new measurements based on real world driving. The ratings are there merely to give buyers an estimate of the average fuel performance of the vehicle they are looking to buy. As it states clearly on the sticker, actual fuel consumption can and will vary based upon the driver.
The net effect of the fuel mileage change on a normal gasoline fueled car is an 8% loss highway and 12% city on the cars average fuel rating. However, the net effect from the change in testing standards on a Hybrid engine is a bit more staggering. The gasoline-hybrid cars are seeing a drop of 20% in the fuel mileage rating. Yet again, to re-emphasis, these are averages based on the EPA's new testing standards. Auto makers are quick to point out that the cars have not changed at all; just the parameters of the testing.
Buyers have been researching NHTSA (National Highway Traffic Safety Administration) crash test ratings on cars for years to aid them in their final decisions. As of Saturday though those ratings just became a little easier to find as they will begin to be displayed on all new car window stickers. The exception to that rule will be low volume cars and high end luxury cars. Proponents of the ruling to include the NHTSA's crash test ratings on the window sticker of new cars believe that it will force auto makers to engineer safer cars. However, some critics feel that the NHTSA crash testing standards are not stringent enough. Very few cars that come out of the NHTSA crash regime are turned out with less than a 4-star rating.
Adding to the theme of safety two familiar features will see new requirements in 2008. Starting Saturday, according to a 2003 agreement, 50% of all new cars are to have side air-bags installed. That same agreement increases that number to 100% of the cars built in 2009. By 2009 both front and side air-bags will be a required safety feature in all production vehicles.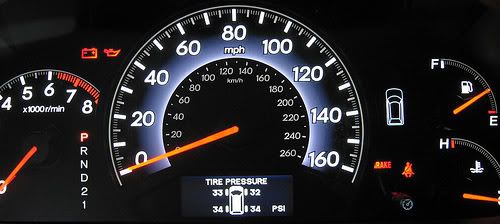 Another safety feature that has seen wide use in some sport model vehicles will be automatic tire gauges like the one displayed above. Sensors inside the rim will be installed in all vehicles to provide the driver tire pressure data from all four wheels inside the car. Some dutiful tire pressure checkers may shrug at the need for such a feature, but many people who over look wheel pressure will come to embrace it. Any sudden pressure change will now be detectable before it is too late. Also, since fuel mileage is so drastically effected by poor tire inflation it is yet another means to help the driver conserve on their energy usage and slightly lower their emissions as a result.
If you look at the individual changes in regulations that are starting today you will be less than overwhelmed. These are not new features or measurements. They are not revolutionary. However, as a package and as automotive tools their utilization may have a lasting impact on someone's life.
Source[DetroitNews]