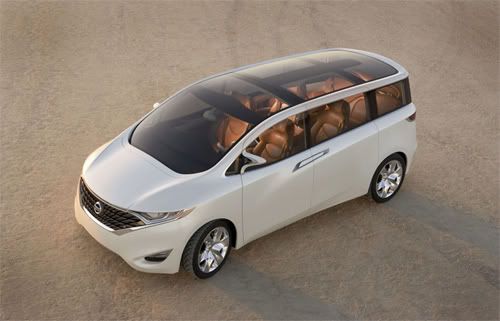 The Nissan Forum Concept Design Team are not merely looking to challenge the mindset of the Mini-Van clans, but to remind everyone that "getting there" should be part of the fun. With plush aniline leather seats, a plethora of electronics and even a microwave such a transport may cause families to opt for the long way to any destination. The outside layers of the Forum Concept also strikes a bold pose with its striking front end, expansive views via the glass paneled cieling, and its railless sliding rear doors. There seems to be a lot more here to catch the here in the Nissan Forum than one would expect in the usual Mini-Van. And that is exactly what Nissan is hoping for when they showcase their Forum Concept in January's North American International Auto Show in Detroit. For more photos and the Specs for the Nissan Forum click Read More.
And inside the scope of Nissan's revisioning of the family transport is the inspiration for clean engine technology for the Forum Concept. While the show car does not possess the future technology that will motivate the Forum if it makes it into production a variant of Nissan's new diesel engine, like the one to come in the Maxima in the coming year, or some other clean and efficient engine will be part of the revolutionized transports packaging. So as clean engine design is not an after-thought to true inspiration for the Forum is in the cabin.
Listed below are a number of features both innovative and entertaining for all age groups that will be in the Forums cozy cocoon, and Bose appears to be a big part of what they have planned. Tucked inside the cabin of the Forum are rear-seat security camera's so that the driver can keep tabs on the kids in the back. Also the second row of seats swivel completely around to provide the occupants in the middle a real chance to share in the ride with their backseat counterparts. And hidden inside the door jam of the Forum are Bose speakers so as to make it the ultimate tail-gate party where ever you may park it.
While we are always reminding ourselves that these are merely concept vehicles and are not quite ready or may never come to market they do seem to carry their own level of excitement for the future. Look for more information and photos to come out in January from the Detroit Auto Show and in the mean time just enjoy the possibilities whether they are destined to come to fruition or not.
[myginpage=12182007-forum]
Below are the Specs from Nissan for their Forum Concept vehicle.
Nissan FORUM
Concept Key Dimensions and Specifications 
Engine: Environmentally sensitive clean diesel engine 
Transmission: Nissan Xtronic CVT" (Continuously Variable Transmission)
Drive Configuration: Front engine/front-wheel drive
Wheels/Tires:  20-inch 6-spoke aluminum-alloy wheels  Nitto NT420 245/45R20 tires
Wheelbase: 121.1 inches/3075 mm
Length: 196.4 inches/4987 mm
Width: 83.3 inches/2114 mm
Height: 69.4 inches/1763 mm
Seating Capacity: 7 passengers
Audio/Entertainment 
Bose Media System:
· Intuitive controls featuring proximity sensing to detect the operators reach
·  Comprehensive voice command and hands-free communications
·  Hard disc drive music storage with Bose uMusic intelligent playback system
·  Bluetooth connectivity
·  GPS navigation
·  Wide screen LCD display
·  Multi-format media capability for stereo and surround discs
·  2nd and 3rd row monitoring cameras
·  One-button audio muting and front-to-back communication
SeatCentric audio system:
·  Speakers in headrests and seatbacks allow for a consistent stereo image even as the seat swivels
·  Independent audio programs in front and rear seating rows 

FreeSpace outdoor audio:
·  Full-range exterior audio system for tailgating and other outdoor activities
Select Exterior Features
Dramatic styling with wide stance, high beltline, wide-open visibility and an aggressive front end appearance; wide-opening front doors and no B-pillars; trackless sliding side door design, which offers a clean, uninterrupted, non-traditional profile; expansive use of side glass and overhead SkyView" moonroof glass panels to open up the interior to the outside environment; LED lights front and rear, with a subtle LED light bar accenting the sweeping grille and hood design; soft-edged side outside mirrors; wide six-spoke alloy wheels and low-profile tires; a wide rear hatch; and dual exhaust outlets
Select Interior Features 
Aniline leather-appointed, pedestal-style drivers and front passenger seats; extensive use of rich Analon leather, aluminum and wood; dramatic floating instrument panel blending next-generation communications technology with simple, intuitive controls; dual climate controls; Bluetooth' wireless technology; mood lighting under the upper and lower console areas; built-in console-mounted microwave, sized to fit a standard bag of microwave popcorn; special vertical wave pattern "modern shag" carpeting; revolutionary Turntable Seating 2nd row bucket-formed seat that rotates 90 degrees to either side to create "grandstand" seating for watching sports, or 180 degrees to face the three-passenger rear seat, creating family-style seating for up to five passengers; 2nd row seat includes individual wireless monitors, located in the seat console; integrated seat belts in all positions