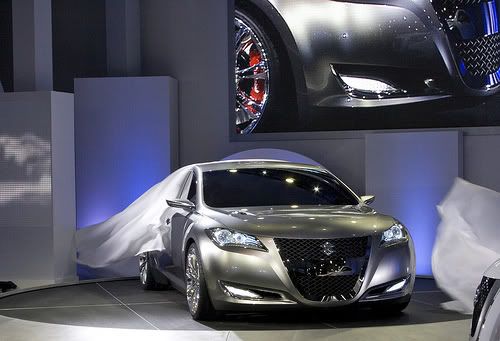 The Kizashi 3 concept shares the stage at its unveiling with its Suzuki brethren the Kizashi 1 and Kizashi 2 concepts. The Kizashi concepts all share a similar purpose, similar design influences and similar nose pieces, but one thing may set them apart. The Kizashi 3 is closer to what will be the real production version of the Kizashi than the other two. According to Suzuki sources representing the Kizashi 3 to the crowd what you see now is a close representation of what is destined to arrive in 2010.
The Kizashi 1 & 2 Concepts were a great influence on what looks to be near the final revision of the Kizashi concept and ,while we hate to see some of the more dramatic lines of the rear of the first two concepts disappear, Suzuki gains a lot of credit for keeping the bold fascia of the car intact. Powering the large sedan with the large grill breather in the front is a 3.6 liter V6 that is pumping out 300-hp to Suzuki's all-wheel drive system that motors all four wheels of the car. If they can squeeze any more horsepower out of that V6 maybe they can include an aftermarket add-on of a larger "S" across that front grill – "SuperKizashi."
All kidding aside it looks as though Suzuki could have a real winner arriving to our shores in 2010, and that is just what the competition needed… another strong Asian entrant in the sedan market. GM is struggling to maintain what was their dominance with their less than stimulating Malibu sedan that is receiving a huge marketing push from the battling auto giant. As if fighting off the Camry was bad enough by 2010 GM will be facing at least a 3 Brand assault as the Hyundai Genesis is now on the market and the Suzuki Kizashi arrives on the mainland.
Check out the full gallery of the Suzuki Kizashi unveiling, the official Press Release and the video of the pulling of the covers provided by AutoBlog… all to follow on the next page after the link.
[myginpage=03212008-kizashi3]
PRESS RELEASE
LIVE! FROM NEW YORK: SUZUKI DEBUTS CONCEPT KIZASHI 3 AT 2008 NEW YORK INTERNATIONAL AUTO SHOW

Suzuki "Way of Life!" brand spirit illustrated by world debut of athletic Concept Kizashi 3
Suzuki broadcasts plan to produce global sport sedan based on Concept Kizashi 3 design
Series premiere of complete Concept Kizashi family
NEW YORK (March 20, 2008) – Performing onstage at this year's New York International Auto Show in front of a packed house, American Suzuki Motor Corp. hosts the world debut of its sleek and athletic Concept Kizashi 3, which completes the company's star-studded cast of media-acclaimed Kizashi concepts. In addition to the North American reveals of Concept Kizashi and Concept Kizashi 2, the global introduction of Concept Kizashi 3 coincides with Suzuki's announcement that it will produce a sport sedan derived from the Concept Kizashi 3 design.

The Concept Kizashi series was developed by Suzuki's Advanced Design Group to reflect a dynamic athlete in motion, taking design cues from a strong, honed physique while displaying the performance, strength and style befitting a flagship vehicle. The design theme began with Concept Kizashi, which made its debut at the 2007 International Motor Show in Frankfurt, and the Concept Kizashi 2, unveiled at the 2007 Tokyo Motor Show, which further revealed Suzuki's new design language.

"Kizashi means 'prelude' in Japanese, and that's exactly what this design represents for Suzuki from both a business and a product standpoint," said Mark Harano, president, American Suzuki Automotive Operations. "Concept Kizashi 3 illustrates our brand character and personifies our heritage, design strength and engineering prowess. With customers in 192 countries and regions, Suzuki is truly a global brand, and the coming model carries on our mission to build the image of our automotive products in North America and eventually match our bikes' reputation."

Known primarily as a maker of small vehicles, Suzuki intends for the production derivative of the Kizashi series to serve as the company's flagship vehicle, strengthening its current product line of small cars, trucks and SUVs with a sporting, more accommodating sedan. The future production model will be built at Suzuki's brand-new Sagara plant in Japan, currently under construction, and provide an accessible alternative to the near-luxury segment. While a firm timetable has not been announced, Suzuki will deliver the Kizashi-influenced sport sedan to North American dealers by 2010.

The Concept Kizashi Series
Evoking the physical superiority and dignity of a world-class athlete, the Concept Kizashi series was developed to create a substantial presence that redefines the traditional performance vehicle and moves the Suzuki brand upscale. The overall design theme suggests physical strength from intense daily training, with the strong will, commitment and presence of a champion.

Each of the Concept Kizashi vehicles strikes a balance between driver comfort and sportiness, with roomy cabins melded to lean, dynamic exteriors. The hood and body style of all three Concept Kizashis hint at abundant engine power and wind-splitting aerodynamics, while the long wheelbase, aggressive wheel/tire combinations and abbreviated overhangs communicate a performance-oriented, energetic image. A powerful-looking body profile is incorporated throughout the series to convey underlying strength, with large wheels and a wide tread expressing a capacity for superior performance. Beyond its exterior architecture, the Concept Kizashi series constitutes a four-wheeled continuation of Suzuki's exciting, performance-oriented motorcycle heritage, represented best by its dynamic, world-renowned line of GSX-R sportbikes. Those bikes, some two decades after their introduction, continue to dominate the sportbike segment and have achieved iconic status.

Concept Kizashi
Concept Kizashi made its world debut at the 2007 International Motor Show in Frankfurt, demonstrating Suzuki's progress toward the development of a vehicle that combines sportiness, style and substance. As the first concept in the Kizashi series, the vehicle's dynamic exterior was specifically developed to push the envelope and establish the overall design theme of the series. Reflecting the spirit of a highway athlete, the exaggerated dimensions of Concept Kizashi and its strong fascia communicate a dignified character and the overall presence of a dynamic flagship vehicle.

Concept Kizashi 2
Debuted at the 2007 Tokyo Motor Show, the Concept Kizashi 2 crossover sport wagon aims at drivers with dynamic lifestyles and can accommodate a wide range of activities. Continuing the series' athletic theme, Concept Kizashi 2 reflects the body of a triathlete, with the five-door vehicle's all-road capability enhanced by its raised height and all-wheel-drive configuration. In addition to the sport crossover's versatility, its 3.6 liter V6 engine and six-speed automatic transmission promise a rewarding and engaging driving experience for daily drivers and enthusiasts alike.

Concept Kizashi 3
The closest-to-production variation of the Concept Kizashi series, Concept Kizashi 3 embodies Suzuki's interpretation of the sport sedan segment in the North American market. The Kizashi's "super sport" identity, a core component of the Suzuki brand DNA, is tempered by the vehicle's overall mission to provide strong, refined urban performance.

As with Concept Kizashi and Concept Kizashi 2, the front end of the Concept Kizashi 3 expresses strength and style, with sharply fashioned headlights that emphasize the sensation of forward motion. The vehicle's exquisitely engineered body reflects Suzuki's distinctive combination of capability and refinement, with power flowing from a 3.6-liter DOHC V6 engine with plated cylinders – a weight-and space-saving technology that evolved from the lessons learned by Suzuki's motorcycle and WRC development teams. The body's monochrome finish, Kizashi Silver, gives the vehicle a sense of composure and depth of character, with metallic paint sparkling to emphasize the dynamism of the body's cross-section.

Concept Kizashi 3 Specifications
Powertrain layout: Front engine, four-wheel drive with Advanced i-AWD system
Seating capacity (persons): Five
Tires: 255/30ZR21 9.5J
Wheels: 21-inch, nine-spoke, aluminum
Engine: 3,564cm3 V6, DOHC, 24-valve
Transmission: Six-speed automatic (with paddle shifters)
Maximum power: 300 hp
Overall length: 4,650mm/183.1 in.
Overall width: 1,900mm/74.8 in.
Overall height: 1,450mm/57.1 in.
Wheelbase: 2,800mm/110.2 in.
Minimum ground clearance: 120mm
Body color: Kizashi Silver