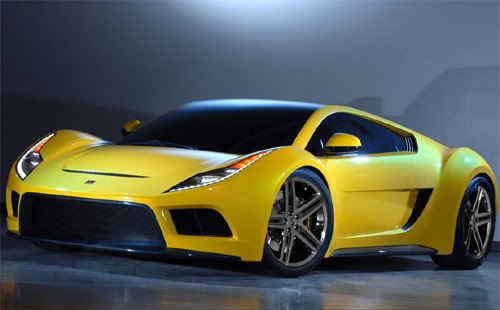 The S5S Raptor is the latest supercar concept to come from the designers at Saleen and it is sure to stop most auto enthusiasts in their tracks at this years New York Auto Show. The first thought that comes to mind is that Saleen must have lured over some Hot Wheels designers to come work in their design department. The look of the S5S Raptor has toy written all over it, but this conceptual gem is a toy aimed at a completely different crowd.  Plus, instead of arriving in a cardboard and plastic box for about $3 this super toy would run up to $185,000.  …I think the kid in me just fainted.
Following in the lead of some Le Mans racing teams and some other rare concept supercars the Saleen S5S Raptor runs on ethanol fuel. The bio-fuel allows them to avoid the high-octane blends while giving the supercar a slightly Green flavor. And if the S5S Raptor makes it into production in the two years Saleen said it would take I am sure the well connected supercar aficionado on the East Coast would be able to truck in that ever elusive bio-fuel.
The S5S Raptor is driven by a 5.0 liter twin-screw supercharged engine producing 650-hp and 630-ft lbs of torque. That is sufficient power to give the Raptor a top speed of 200 mph and a 0-to-60 time of 3.2 seconds. As the Official Press Release says below the S5S Raptor is "mean and clean" with its road prowess and clean burning ethanol fuel.
There are sure to be complaints and comparisons on the S5S Raptors design elements as many critical observers of the supercar class typically do. So here is your chance to be heard as Saleen is looking for the media and general publics response to their S5S Raptor Concept to determine if it will make it into production. The vote coming out of these offices is a firm "yes," but then again the one yes-vote is the best these offices can do. The 185,000 dollar votes it would take to own one is not quite in our possession yet.
Check out the Full Gallery of photos, video and the official Saleen Press Release for more details on the S5S Raptor Concept.
[myginpage=03252008-s5sraptor]
PRESS RELEASE

SALEEN REVEALS SUPERCAR CONCEPT THE S5S RAPTOR AT THE NEW YORK AUTO SHOW

New York, NY (March 20, 2008) Saleen's all new concept vehicle, the S5S Raptor made its world debut today on the floor of New York City's Jacob K. Javitz Convention Center. The S5S Raptor unveiling comes amidst several other Saleen announcements including a partnership with Dan Gurney, Rockstar Games and the integration of several first time seen ASC products, featured on two existing Saleen vehicles.

We are extremely proud of the Raptor. It is the car that enthusiasts are waiting for America to produce and Saleen is just the company to answer that call, said Paul Wilbur, Saleen President and CEO.

The S5S Raptor represents the first ground up vehicle to be conceived by the new Saleen management team and the most extensive demonstration of the combined capabilities of Saleen engineering and the ASC creative team.

The Raptor is just a glimpse of things to come from Saleen, says Chief Technical Officer, Chris Theodore. Our company is unique in that we have the experience and knowledge behind some of the most exciting performance
vehicles built over the past 20 years. Beyond the S7 Supercar, our team members have been involved in the Viper, Prowler, Ford GT, and the products of Chrysler SRT and Ford's SVT performance groups. These lessons learned are evident in the Raptor concept and we will continue to build upon them as the company evolves.

The Raptor is a two seat mid-engine super car that competes in size and style with core offerings from the most notable of Italian exotic car makes, but with a segment leading 650hp and 630 lb-ft of torque provided by a Saleen 5.0L Supercharged Engine – the source of the S5S designation. Unlike its competitors, the Raptor is designed to digest cellulosic ethanol. This is the same ethanol formula, states Wilbur, that is the official fuel of the 2008 American Le Mans Race Series and the IRL. The higher octane rating of E85 results in more power. It is a combination that will send the Raptor screaming to 60 mph in a g-force generating 3.2 seconds. With ethanol power, the car is both mean and clean!

Saleen's use of cellulosic ethanol is right for us for two reasons:
It maintains consistency with our racing heritage, as many of the racing formats (IRL, American Lemans, etc) are now adopting ethanol as the racing fuel of choice.

It also helps our environment through cleaner tailpipe emissions as well as reducing America's dependency on foreign oil.

While Saleen is a small, specialty vehicle maker, we share in the responsibility to do what we can to support our environment, without compromising on our brand values.

Compromise does not enter into the conversation at all. The Raptor's hand-built 5.0L cubic inch engine with its patented twin-screw supercharger delivers its 650 horses at 6300 rpm and hits max torque at just 4400 RPM. This power sits on call beneath the knob of a close ratio 6-speed manual, or optional paddle shifting sequential gearbox. It's a combination that send Raptor's rigid aluminum chassis screaming to a top speed of over 200 mph.

As power is nothing without control, the double wishbone suspension and rack-and-pinion steering of the S5S is augmented by ABS traction control and stability control systems. The brake system features 15-inch (381 mm) front rotors with 6-piston calipers, and 13-inch (308 mm) rear rotors with dual piston calipers for maximum stopping power. Road holding traction is provided by the 275/35 ZR20 and 315/35/ZR20 Pirelli Rosso tires that wrap the 20???? forged aluminum front and rear wheels respectively. The unique black-diamond and carbon fiber finish on the wheels make them as stunning as they are strong.

We spent a great deal of time on the design of the Raptor, says Marques McCammon, General Manager of Saleen Automotive. The vehicle's bold shoulders are reflective of an aggressive American attitude, reminiscent of Can- Am race car styling cues, but delivered with modern sophistication. If you see a little Chaparral or McLaren design influence in this car, you are right.

The aesthetics for the Raptor were developed by ASC Creative Services, America's largest independent automotive design firm. This vehicle was an aggressively compressed program that combined the traditional methods of three-dimensional clay sculpting with sophisticated digital modeling tools, said Steve Nowicki, ASC Creative Services Director. The vehicle is distinctive in a way that I think the world is going to love. The primary designer on this program was Dave Byron, a CCS graduate and passionate member of ASC's Design team.

Raptor's unique sun flair yellow paint accentuates the cars beautiful body forms. The interior of the car can be illuminated by the sun or the city lights through the solar-tented scenic roof that covers the cockpit. Detailing is transformed from mere aluminum on the vehicles wheels and exhaust by their black-diamond powder coat finish.
In all the S5S Raptor is a work of art aimed to take your breath away, said McCammon. It is aggressive and sexy at the same time.

According to Saleen executives, the S5S Raptor could enter the market in as little as two years, and should it go forward, it would carry a base price of approximately $185,000 MSRP.

ABOUT SALEEN
Since the company's inception in 1984, Saleen has produced thousands of complete and EPA certified, specialty vehicles. In addition, Saleen has equipped more than 600,000 vehicles worldwide, further emphasizing their capabilities and commitment to excellence.

A nine-time Manufacturers' Champion in GT sports car racing, Saleen manufactured the American super car, the Saleen S7, as well as the S281 Mustang, S331 Sport Truck and the Saleen/Parnelli Jones Limited Edition
Mustang. Saleen's manufacturing facilities are located in Troy, Michigan. The Michigan facility has also just completed all paint and assembly of the Ford GT as a special project for Ford Motor Company and currently is providing paint and subassembly for the Dodge Viper SRT-10.

For more information visit www.saleen.com. ###