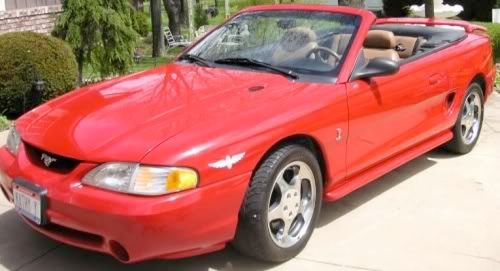 About The 1994 Mustang
The 30th year anniversary of Mustang occurred in 1994 and was celebrated with the fourth major redesign of the Mustang. Of course, the new design was influenced significantly from the 1964 model, but the 1994 model had a look all its own and a significant amount of power. One design feature reminiscent of the '64 Mustang was the famous pony running through the grille of the Mustang. Having been missing for 16 years, fans were ecstatic the pony was back.
Other design changes included the Fox-4 platform that was modified to be better at reducing vibration and noise, as well as altogether stronger and stiffer. Larger rocker panels, roof rails, and stronger joints were all part of the changes to the car. The many changes to the design resulted in a more aerodynamic Mustang, one that was curvier and more modern that the past edginess of the Mustang design.
For 1994 the hatchback was finally discontinued, but the popular coupe and convertibles remained.
Shop For Mustang Products:
Search For Ford Mustangs on Ebay
Search For Mustang Parts on Ebay
Search For Mustang Accessories on Ebay
The anniversary year combined with the new design and ever affordable price resulted in a big sales year for the Mustang. In fact, Mustang sold 10,000 more cars in 1994 than in the 1993 model year. That is a significant difference and one that complemented Ford on the new Mustang's design and pony car power.
Source: Mustang Forums