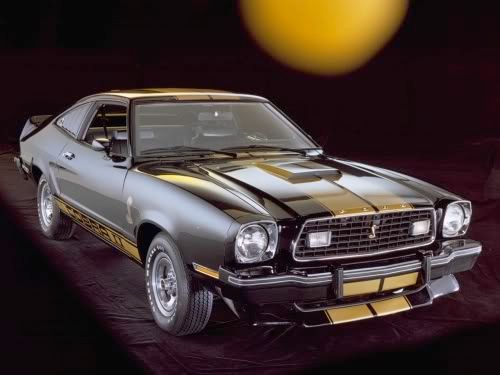 About The 1975 Mustang
After the big change of the 1974 Mustang II there was very little difference in the 1975 model year. It actually looked as if it were the same car, although it did have some minor changes. These included a half vinyl roof instead of a full one and a rectangular opera window. Many things stayed the same as far as the Mustang II's models for 1975 with the standard, Ghia and Mach 1 reappearing.
The performance aspect of the Mustang returned for the 1975 model year with a 5.0L engine. The V8 with 140 horsepower gave the Mach 1 more get up and go than the year before and Mustang performance fans were pleased with the reintroduction of the V8. Of course, Ford's focus still remained on good gas mileage and comfort instead of a pony car that could burn rubber.
Shop For Mustang Products:
Search For Ford Mustangs on Ebay
Search For Mustang Parts on Ebay
Search For Mustang Accessories on Ebay
The market dictated the Mustang II's design and Ford believed consumers' wants and needs had changed from the '60s to the '70s. Because of this the four cylinder and V6 engines were still offered so consumers who were truly uninterested in performance could have what they desired as well. Unfortunately for Ford, sales dropped by approximately 60% even with the option of the 5.0L engine.
A new MPG budget coupe was also introduced in 1975, however the public's desire for the Mustang II had already begun to diminish and it appeared everyone who liked the Mustang II bought one its first year out. The total production for Mustang II in 1975 was 188,586. This is about half the production number for the previous model year.
These years were dark ones for Ford as well as performance vehicles because of the simultaneous concerns for pollution as well as gas mileage. It took nearly a decade before engines controlled by computers would be able to increase performance once again. The drawback of the Mustang II was that it lacked the performance of all other Mustangs. However, it did have some benefits including improved handling, increased fuel economy, and it was smaller to boot.
Source: Mustang Forums