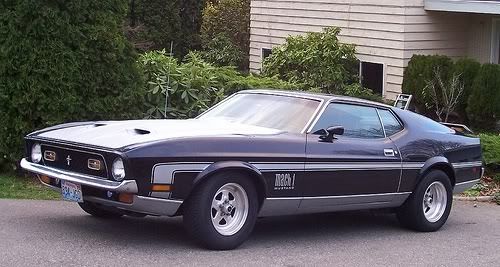 About The 1972 Mustang
The 1972 Mustang was not very much different in style than the 1971 model. There were more options to upgrade the vehicle, but that was about it. Of course, the lineup took a big hit with only the Mach 1 hanging around for a performance model.
Shop For Mustang Products:
Search For Ford Mustangs on Ebay
Search For Mustang Parts on Ebay
Search For Mustang Accessories on Ebay
The reason the Boss Mustangs were dropped is because of new fuel regulations as well as the Clean Air Act. The Mach 1 was as much performance as was available in a Mustang in 1972. As far as performance was concerned there were only 2 V8 engines, the 302 and the 351. The horsepower fell to a range of 140-275. The actual power potential was not changed, but the output was in order to meet federal regulations. The loss of performance in a performance car like the Mustang really affected sales. The big blocks were not included in the '72 lineup either and this resulted in the Boss Mustang being dropped. The Mustang Grande with its luxury options was still offered, as well as the Mustang Sprint, however the Mustang experienced the lowest sales ever of 125,813.
Source: Mustang Forums