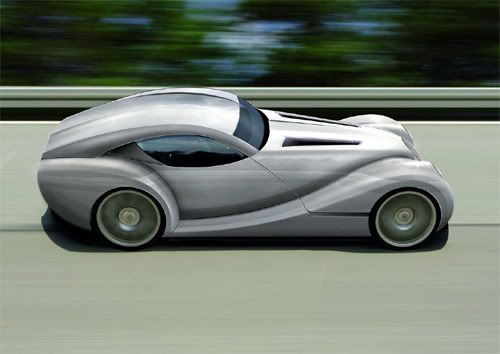 What might be the oldest roadster builder in the world is looking to tackle the greatest hurdle existing today in the auto industry. But they are not only looking to prove it can be done.  They want to show that a car producing zero emissions can still give rise to an exciting auto that is a thrill to drive.
The Morgan LifeCar is a fuel cell hybrid sportscar that is getting ready to be presented at the Geneva Auto Show. The design of the car is based off of Morgan's more modern roadster the Aero 8, but the whir beneath the bonnet is all new. In partnership with Morgan to make the LifeCar Concept possible are QinetiQ, OSCar and Oxford University.
The two more prevelant features of the Morgan LifeCar Concept are the ultra light weight chassis of the car and the hybridization built in. The propulsion system is based around a smaller hydrogen fuel cell that uses air that is pulled from around the car to be mixed and converted into electricity. Ultra light capacitors are designed to capture and store the excess electricity from the main unit and from the regenerative braking system, which will be used for acceleration.
The light weight chassis that houses the fuel cell hybrid system and the cars passengers is a key component in the LifeCar Concept. It allows for the use of less energy in acceleration and permits for he use of a smaller fuel cell. Combined they expect the Hybrid system and minimized weight of the car to reach a driving range of 200 miles. That is 200 miles of excited driving.  Gallery of Photos to follow
It has taken a total investment of 1.9 million pounds to reach completion, but the results may give the hydrogen fuel cell systems a greater foothold in the auto industry. Partial funding for the development of the Morgan LifeCar came from England's Department of Trade and Industry. Each individual project that was necessary to produce the LifeCar was broken out by expertise (breakdown provided by CarBodyDesign):
BOC – Developing the hydrogen refuelling plant
Cranfield University – Systems simulation , on-board computing and control networks
Oxford University – Design and control of re-generative electric motors
QinetiQ – Developing the proton exchange membrane fuel cell
Morgan Motor Company – Building the finalised design using light weight technology
OSCar – Overall system design and architecture
The results of their 2 and a half years of research and production will be unveiled at the 2008 Geneva Auto Show. While Morgan still produces one of the oldest roadster chassis still in production today they are still very much looking into and building for the future. We will be looking forward to acquiring additional information and a closer look at the Morgan LifeCar at its first public showing.
[myginpage=02132008-lifecar]
Source[CarBodyDesign and Morgan]