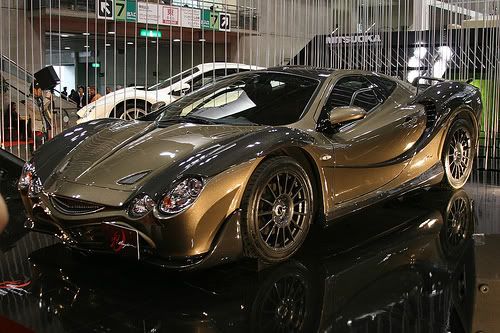 After stepping out with their first supercar at the Tokyo Auto Show in 2007, a left hand drive version of the Mitsuoka Orochi is ready to stretch its wheels beyond the borders and across the Sea of Japan. But do not get your hopes up Americans, as so far the plans are only for a few particularly wealthy countries in the Middle East and Thailand.
The Orochi was originally built and sold just in Japan, but after being approached by a wealthy collector out of Qatar Mitsuoka decided to engineer the Orochi for sale outside of Japan. Hmmm… I wonder what kind of persuasion was used by said wealthy tycoon from Qatar? Other Middle Easter countries to receive the LHD Orochi are Jordan and the United Arab Emirates.
The grinning snakes head front end of the Orochi is certainly a unique design, if not slightly cartoonish. It does maintain a sleek performance appearance housed around a questionable Toyota 3.3 liter V6 powerplant. However, with light-weight construction there may be plenty to surprise from the mid-engined Orochi. It would fit right in with what the Wachowski Brothers are using in the latest Speed Racer Movie.
Be sure to check out the Photo Gallery and Video footage of the Orochi after the leap.
Even though Mitsuoka has no plans to export the Orochi to North America it would still be possible for the adventurous car collector to buy one straight from Japan and have it shipped across the Pacific Ocean to the US. From the video footage below you will see the cost of an Orochi running at 10,500,000 Yen. At our current rate of exchange that would be $105,183.75, but move fast before the dollar slips any further down on the exchange markets.
[myginpage=04022008-orochi]
Source[MotorAuthority]