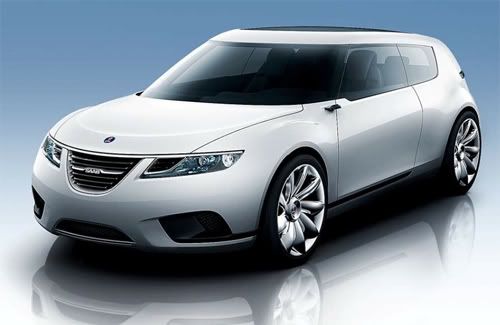 A Saab prances out its 9-X BioHybrid in Geneva this week they aim to show that big things can come in small, luxury packages. While cars like the BMW 1-Series, Audi A3 and the Volvo C30 are already inside the big small car dance, Saab seems to not mind being fashionably late and only wearing its concept dress to the formal shindig. Maybe because she knows that under that dress are some big plans and high ambitions (insert Journey music here).
Where it might appear to many that GM has forgotten all about the little Scandinavian auto maker whose take-over the completed in 2000, but now that they have found her hiding in the corner Bob Lutz is ready to make a splash with her. In his words spoken at the Geneva Auto Show, "Here we're showing two concept vehicles that signal the resurgence of Saab." The other vehicle is the Saab 9-4X Crossover.
The Saab 9-X BioHybrid is Saab's small car concept that will help lead the way toward a small car entrant into the luxury brand market. The 9-X is an extension of Saab's driver focused cockpit design and future thinking design. The 9-X is built on the same platform as the Chevy Volt concept and shares some design cues with it.
…Press Release and Photo Gallery to follow…
Powering the 9-X can either be a gasoline or E85 engine variant with either option mounted to a hybrid engine for improved fuel consumption and cleaner emissions. The E85 variant is intended to reach 200-hp and 207-ft.lbs of torque for a zero-to-sixty-two of 7.9 seconds. The emissions rating projected for the E85 engine is to be 105 g/km, which is well within future regulations.
While we will offer up that the above figures (with more details in the Press Release below) are merely concept car projections it is Steve Shannon, the General Manager of Saab Automotive USA, that reminds us, "You never do a concept without wanting to get market reaction to guide you to eventually doing a car like that." I guess we will just have to wait and see what Saab does with their 9-X BioHybrid concept, but from the looks of things we are going to have to exhibit a good bit of patience.
[myginpage=03042008-saab9-x]
Source[Saab, Detroit News]
Saab 9-X BioHybrid:
Boosting Efficiency in Compact Design and Performance

The Saab 9-X BioHybrid concept is a vivid vision of what a future compact car from Saab could look like. It is designed to reflect the priorities of youthful customers who seek progressive looks, responsible performance and high-tech communications, all in a sporty, fun-to-drive package.

Exploring design themes from Saab's award-winning Aero X and earlier 9X concepts, the 9-X BioHybrid also demonstrates the potential for ultra-efficient power from a 200 hp (147 kW), 1.4-liter BioPower turbo engine backed by GM's next-generation Hybrid system. Projected combined cycle CO2 emissions of just 105 g/km on E85 fuel are testimony to the promise of this package (see separate release for details).

The interior showcases an entirely new expression of Saab's driver-focused cockpit design, together with innovative, seamless connectivity for personal nomadic devices and a rear cargo deck with a 'low friction' loading system.

"This car is all about efficiency in design and performance," says Anthony Lo, Director of Advanced Design at General Motors Europe, who led the 9-X BioHybrid design team in co-operation with the Saab Brand Center in Sweden.

With its 'turbine' wheels placed at all four corners, minimal bodywork overhangs and an extended roof line, the proportions of the three-door Saab 9-X BioHybrid bring a dynamic, new dimension to conventional compact 'hatchback' looks.

The smooth 'fuselage' bodywork, now without any visible handles or door mirrors, the bold 'wraparound' window graphic and deep front grille are all themes inspired by the Aero X coupé concept shown at Geneva two years ago.

The car's distinctive 'shooting brake' silhouette and rear functionality are developed from the 9X multi-role concept shown at Frankfurt in 2001. "You could say we designed this car from back to front, "says Lo. "The shape of the 9X is right for a car of this size, and the longer roof line helps the aerodynamics as well as providing more rear headroom and interior space."

Echoing Saab's roots in aircraft design, the 9-X BioHybrid also explores the potential for using active aerodynamics to reduce drag – and fuel consumption – at cruising speeds. Above 70 kph (43 mph), the upper and lower bodywork is reshaped as the roof spoiler automatically extends to further lengthen the roof line and an underbody diffuser is deployed from the bottom of the rear bumper.

The four-seater cabin introduces an entirely new execution of Saab's driver-focused cockpit design. The central, floor-mounted console, with its angled controls and displays, is now eliminated. Instead, the driver- focused layout incorporates a main instrument panel that sweeps out from the top of the door moulding, arching across the driver. The embedded 3-D graphics appear to be 'frozen' in ice, continuing a Scandinavian design theme first seen in the Aero X.

Reflecting the needs of youthful customers, who expect easy access to multi-media both inside and outside the car, Saab has co-operated with Sony Ericsson in providing seamless in-car connectivity for a range of nomadic devices. The result is a wireless interface for streaming data, entertainment and satellite navigation functions for display and use. The interface also allows the simultaneous use of multiple devices when passengers are in the car.

At the rear, the cargo deck features an electrically-powered slide-out floor, which is activated when the bottom half of the split tailgate drops down The floor, and the back of the folding rear seats, is covered by 'high friction' rubber carpeting, which 'grips' items and holds them securely in place. For easy loading and unloading, aluminum bars automatically rise up and down as the tailgate is opened and closed.

The treatment of light is an important part of Scandinavian design and this is evident in the use of variable, white ambient lighting inside the cabin. The level of suffused illumination can be changed in intensity from bright, cold to warm and soft. It's a personalized feature that could even be programmed, for example, to reflect the pattern of the changing seasons

"This car shows how our concept work can be carried forward into a compact format," adds Anthony Lo. "It has a number of features which we will be developing further, such as the new driver-focused design theme, the importance of clean, uncluttered surfaces and the easy, seamless connectivity inside the car."


Technical Specifications

BioPower Engine:
Transversely-mounted, front wheel drive
1398 cc. Four cylinders Bore/stroke: 73.4/ 82.6 mm. Aluminum cylinder head, cast iron block
DOHC, chain-driven. Four valves per cylinder.
Forged steel crankshaft, steel connecting rods. Aluminum pistons, oil spray cooled.
Direct Injection with centrally-mounted injectors. VVT, inlet and exhaust
Sodium-filled exhaust valves
Compression Ratio: 10.2: 1
Intercooled turbocharger. Max. Boost Pressure: 1.6 bar
Dual-mass flywheel. Saab engine management

Max power (E85): 200 hp (147 kW) @ 5000 rpm.
Max.torque (E85): 280 Nm (207 lb.ft) @ 1750-5000 rpm
Max power (gasoline): 170 hp (125 kW) @ 5200 rpm.
Max.torque (gasoline): 230 Nm (170 lb.ft) @ 1500-5200 rpm

Hybrid System
Electric motor/generator with lithium ion battery pack.
Electric power boost, regenerative braking, fuel cut-off, automatic engine re-start

Transmission:
6-spd manual gearbox, automated clutch, sequential gear selection, steering wheel controls

Suspension:
Front: Damper/coil struts, aluminum lower A-arm. Anti-roll bar.
Rear: Torsion beam, two trailing links, coil springs and dampers. Anti-roll bar
Steering:
Rack and pinion, Electrical power assistance.

Wheels, Tires:
21inch, 245/35R21
Brakes:
Hydraulic, dual circuit, vacuum booster. Discs: 345 mm / 345 mm (all ventilated)

Performance Data
(projected figures)

0 – 100 km/h (0-62 mph): 7.9 secs (E85)
8.3 secs (gasoline)

80 -120 km/h (50-75 mph), 5th gear: 8.8 secs (E85)
11.2 secs (gasoline)

Top Speed, 6th gear: 216 km/h /134 mph (E85)
192 km/h / 119 mph (gasoline)

Fuel consumption (combined cycle): 6.4 l/100km (E85)
4.9 l/100km (gasoline)

CO2 emissions 105 g/km (E85)
117 g/km (gasoline)