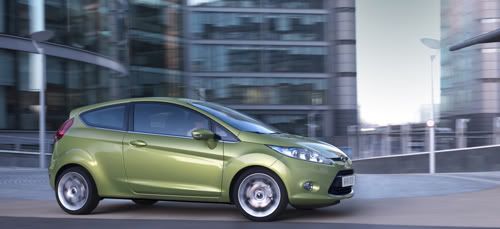 Ford has announced that the Verve Concept will be a reality, but will be introduced at the 2008 Geneva Auto Show as the return of the Fiesta. The Fiesta is Ford traditional small car going back to 1970. As the small car market has begun to gain in international favor, but in particularly here in North America, Ford has determined that the Fiesta nameplate would be the best way to market their new small car platform. The Verve was an exciting small car concept that garnered great interest, so Ford has quite a task ahead of them to make sure the Fiesta maintains that interest.
The new Fiesta if Fords first release from their new Global Platform campaign. The intention is to design cars on a reduced number of platforms that can be used globally. Production is to begin this year for the European version of the Fiesta, but by 2010 Ford plans to have a localized version of the Fiesta sold in Europe, Asia, South Africa, Australia and North America. Photo Gallery and Press Release to Follow
With the Verve concept being a European concept based on the European small car design, ride and comfort standards let us hope that "localed version" for North America does not mean the dulled and stripped down variant. As it stands now the Fiesta has maintained much of the lines the Verve Concept carried and with much of its front end aggression.
Production of the Ford Fiesta's three-door and five-door hatchback designs will begin in the Cologne plant in Germany in 2008, with the Valencia, Spain plant picking up production in 2009. An announcement for the Asian version will arrive at this years Bejing Auto Show, and expectation for the North American production plant is for one of Fords plants in Central America.
With North America not receiving its version of the Ford Fiesta until 2010 let us see if they can keep the excitement going. It seems the small car market is just getting under way and by 2010 there should be quite a bit to choose from.
[myginpage=02152008-fiesta]
Source[Ford]
COLOGNE, Germany, Feb. 14, 2008 – Ford's new small car family will use the Fiesta name around the world, the company confirmed today.
Designed and developed in Europe for customers in Europe, Asia, South Africa, Australia and the Americas between 2008 and 2010, the new Fiesta is the first major product of Ford's new global product development process.  This new small car keeps alive a name synonymous with more than 30 years of success and strong driving dynamics in Europe and is already well known in markets across Asia, Australia and South America.  The Fiesta also was offered in the U.S. from 1978 to 1980.
"The new Ford Fiesta captures every aspect of what's defined Ford as a small-car leader in Europe and builds on it in terms of driving dynamics and design," said Mark Fields, president of the Americas, Ford Motor Company.  "When it arrives in North America in 2010, the Ford Fiesta will set a new standard in the small car segment.  Even before it arrives in this market, though, the new Fiesta demonstrates how leveraging our global strengths can yield attractive benefits for customers around the world."
The dynamic new look for this global family of small cars was previewed in three Ford Verve Concept vehicles which made their debuts at the Frankfurt Motor Show in September 2007, the Guangzhou Motor Show in November 2007 and the North American International Auto Show in January 2008.
In Europe, the new Fiesta will debut first in production guise at the 2008 Geneva Motor Show in March and will go on sale in fall 2008 in three- and five-door hatchback body styles.  By 2010, the new Fiesta will be on sale in markets across Europe, Asia, South Africa, Australia and North America in a variety of regionally tailored models derived from a common platform.
"With the all-new Fiesta, we want to create a world standard for small car quality, design and comfort in a vehicle that is as exciting to drive as it is to look at.  We believe this all-new model will attract a whole new generation of small car buyers, whether they are in Britain, Spain, China or California," said Alan Mulally, Ford Motor Company President and CEO.  "The new Ford Fiesta will set the standard for delivering to our customers products they really want and value while taking advantage of our wonderful global resources."
The new Ford Fiesta brings the dynamic Verve Concept exterior and interior styling to production reality, demonstrating that small cars can be stylish, sophisticated and emotional.  It rejects the notion that an affordable small car has to be a commodity.
The new Ford Fiesta also makes major strides in small car craftsmanship, quality of materials and product choice while continuing to represent traditional strengths of practicality, value for money, agility and safety.  It also brings a host of big-car features to the small-car segment for the first time.
"The new Ford Fiesta is an example of how good a small car can be," said Jim Farley, Ford's group vice president, Marketing and Communications.  "The Fiesta is great to look at, great to drive and it has quality you can see, feel and touch.  It's going to be an important growth product for North America."
A key Ford Fiesta strength throughout its life has been its acclaimed driving quality, and the new model intends to uphold this reputation.  Ford's dynamics engineers also worked hard to enhance Fiesta's ride comfort and isolate road, wind and powertrain noise from the cabin, and to give the new model an impressively quiet driving quality for a small car.
Fiesta for a New Generation
The all-new Fiesta opens another chapter in the story of the popular Ford small car that has sold more than 12 million units since its introduction in 1976 and represented real change when it came on the automotive scene.  While it has moved with the times and fashions over the years, it has remained steadfast in its dedication to providing economical, practical and dependable transportation for people of all ages.
Starting in the early 1970s, the Fiesta project became a personal mission of Ford's Chairman, Henry Ford II.  A passionate believer in small cars, Ford rallied his company to the mission of creating a new model.  He personally was involved in every step of the long process that led to the grand opening of the new automotive assembly plant in Almusafes, Valencia, with the attendance of the newly crowned King of Spain, Juan Carlos.
With the global fuel crisis as extra incentive, at the end of 1973, the Ford Board of Directors gave Project Bobcat, as it was originally known, the go-ahead for development and production.  Fiesta didn't get its name until 1974, when Ford whittled down a list of 50 potential names to just five.  The final choice went to Henry Ford II, and his preference for Fiesta was entirely appropriate given the creation of the new manufacturing plant in Spain.
In Europe, the new Fiesta will be built at Ford's Valencia manufacturing facility in Spain beginning in early 2009 alongside the Cologne manufacturing plant, which starts production in fall 2008.
A production announcement for the Ford Fiesta in Asia will be announced in April at the Beijing Motor Show.  A North America announcement will come at a later date.
Verve Sedan Concept Specifications
| | |
| --- | --- |
| Overall length | 145.35 in. |
| Wheelbase | 97.99 in. |
| Overall width | 65.12 in. |
| Overall height at curb | 54.33 in. |
 Track width
| | |
| --- | --- |
| Front | 58.03 in. |
| Rear | 57.32 in. |
| Front Overhang | 32.05 in. |
| Rear Overhang | 57.32 |
Headroom
| | |
| --- | --- |
| Front | 37.8 in. |
| Second Row | 35.83 in. |
Legroom
| | |
| --- | --- |
| Front | 42.09 in. |
| Second Row | 32.76 in. |
Powertrain
Fuel-efficient 4-cylinder engine