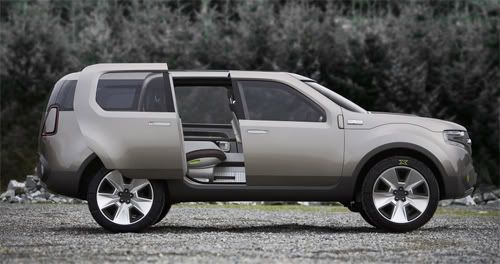 At this years Detroit Auto Show Ford will introduce their new EcoBoost engine technology along with their new Explorer America Concept. With EcoBoost Ford is touting a 20-30% increase in Fuel Mileage and better performance out of smaller displacement engines than they are currently using. With the Explorer America Ford is introducing the consumer to some of the innovative designs that could revolutionize the Ford Explorer.
EcoBoost is Fords economical response to the public's demand for better fuel economy in their vehicles. While it is not the long-term solution it does provide an affordable solution built upon today's current engine technology. EcoBoost combines the direct cylinder injection of fuel, turbo chargers and smaller displacement to achieve a 20-30 percent increase in fuel mileage while reducing the engines emissions up to 15%.
The buyer of an EcoBoost vehicle will see the return on his investment at the pump within 2 years, while the purchaser of a Hybrid vehicle will take 11 years to recover the added expense of his/her investment. While the first car to receive the new EcoBoost system will be the 2009 Lincoln MKS Ford will be promoting their new fuel saving engine technology along side the new Explorer America Concept in the coming weeks at the Detroit Auto Show.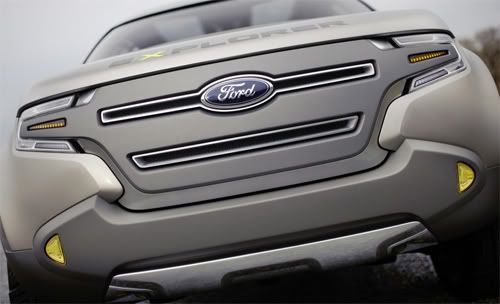 The traditional Ford Explorer receives a complete makeover in the Explorer America Concept and yet still retains a familiar shape to the current model. Parts of the new SUV seem familiar and other parts are a bit futuristic. Built into the Explorer America Concept are a number of new Ford innovations that they will be highlighting at the Detroit Auto Show.
Here is a list of the improvements you can expect with the Explorer America:
A powertrain lineup that includes a 4-cylinder 2-liter engine with EcoBoost technology delivering 275 hp and 280 lb.-ft. of torque or, as a premium engine, a 3.5-liter V-6 delivering about 340 hp.  Depending on engine selection, fuel-efficiency will improve by 20 to 30 percent versus today's V-6 Explorer
Migration from current body-on-frame to unibody construction, reducing weight and delivering superior driving dynamics
A fuel-efficient 6-speed transmission with auto shift control, allowing the driver to select  and hold a lower gear with just the turn of a dial when conditions warrant it
A weight reduction of 150 pounds for the V-6 version thanks to its downsized – yet superior performing – engine, as well as more lightweight materials, suspension and chassis components
Fuel-saving electric power assisted steering (EPAS) and other engine actions that deliver a fuel savings benefit of about 5 percent.  Between 80 to 90 percent of Ford, Lincoln and Mercury vehicles will have EPAS by 2012
Aerodynamic and other parasitic improvements that add up to a 5 percent fuel economy gain
Other futuristic design cues that can be found with the Explorer America Concept take place on the inside. The wide door opening thanks to the sliding rear doors and the absence of a B-pillar between the doors opens up to an interior that looks more Battlestar Galactica than Explorer. While most of what you see is unlikely to be found in the new model of Explorer it still represents the innovations that are going to find a way to influence future design.
[myginpage=01072008-explor]
The Detroit Auto Show is just around the corner and you can expect to hear a lot more about EcoBoost from Ford in the coming weeks. You can also expect to see more about the Ford Explorer America Concept as Ford looks to gauge the publics opinion to help shape the next generation Explorer.
Source[Ford]