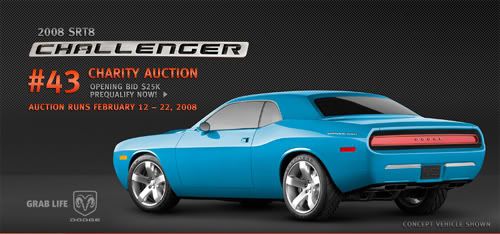 Less than a week after seeing the rights to the very first production Challenger SRT8 go for $400,000 at the Barrett-Jackson Auction we have our second auction opportunity for a very special car. Starting February 12 bidding will begin on the #43 Challenger SRT8. The car will be painted a special B5 Blue and will be the only Challenger painted that color.
The famed color and significance of the #43, for the rare few reading this that do not know, goes back to Nascar driver Richard Petty. The proceeds from this auction will go toward the Victory Junction Gang, a childrens charity that was founded by Nascar driver Kyle Petty following the death of his son Adam. The organization has a camp where children with chronic diseases can go to take part in various activities and maybe forget for a while about the disease they are living with.
The winner of this auction will also receive two VIP passes with airfare and lodging to the Dodge Challenger 500 in May of 2008, along with a meet-and-greet session with Kyle Petty himself.
So if you were getting that sinking feeling like you really missed your chance in bidding to win the #1 Challenger SRT8 at the Barrett-Jackson Auction then you can start feeling better now. The #43 car is far from a second place option.