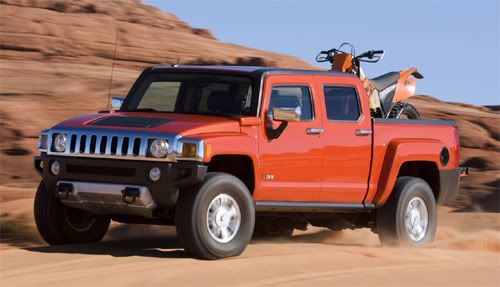 Following up on the heels of their HX Concept in Detroit and just ahead of its official unveiling scheduled for Chicago some high-res photos of the up-and-coming Hummer H3T pick-up have found their way across the internet. Based off of the H3 model the H3T goes where the other Hummer truck attempts have not; a complete truck bed. In the case of the H3T the truck bed is a completely separate piece from the cab and even comes with bed rails to better express its "truckiness" (yes, made up word included).
There are two suspension packages expected to come in the H3T: off-road and road/tow. While there is plenty of truck versatility in the back the interior of the H3T comes with the same available packages as the H3. Also like its H3 counterpart you can look for the H3T to come with the same available engine packages: 3.5 liter 5-cylinder or the 5.3 liter V8. (…H3T Photo Gallery Following Link)
Judging from the photos and as would be expected Hummer took no short-cuts on the H3T. Giving the truck bed its space required GM to extend the frame the standard frame of the H3 another 22 inches. It will be interesting to see how the elongated frame effects the off-road handling of the H3T and how it matches up with its Hummer expectations.
The Hummer HX Concept received quite a bit of approval at the Detroit Auto when it was rolled out onto the stage. It was a bold move for GM and there are those still awaiting word as to whether the HX will see production. For those catching a first glimpse of the H3T there seems little worry about whether this mid-sized truck will see production as it appears to be production ready.
So check out the gallery below and make up your own mind: Has Hummer struck gold again or is it all too much too late?
[myginpage=01282008-h3t]
Source[GM via Autoblog]