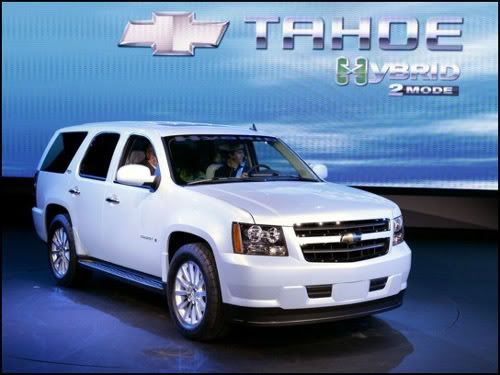 With the Chevy Tahoe and the other large SUV's under the umbrella of GM and those infused with the Mode 2 Hybrid drive system there are now tanks achieving the fuel mileage of jeeps on the automotive battlefield. At an average of 20mpg in city driving the Chevy Tahoe Hybrid achieves a fuel mileage rating that is as good or better than some cars. For the Chevy Tahoe Hybrid that is a 40% savings in fuel consumption from their non-hybrid model. So while a 20-mpg fuel rating may not sound all that Green to the judges at the LA Auto Show it seems the 40% improvement in fuel consumption won them over.
Some of the big names that served on this years judging panel that chose the Chevy Tahoe Hybrid are Carrol Shelby, Jay Leno, Carol Pope and Jean Michel Cousteau. Rounding out the field of judges were industry leaders and several motor journalists. So did the lacking of a new 40mpg model leave the judges with no other clear alternative except the Tahoe Hybrid?
Other finalists for the award were the Chevy Malibu Hybrid, the Mazda Tribute Hybrid, the Saturn Vue Hybrid and the Nissan Altima Hybrid. The assumption could be made judging from the field of new hybrid reaching the market place in 2008 that the American Auto Makers are less interested in real innovation and more interested in finding a means to keep their higher profit SUV's relevant. And lucky for them they have just the right audience.
Source[MotorAuthority]
Related Article:
Can the Tahoe match the Camry in Fuel Efficiency?
Jay Leno brings his E85, 600-hp Corvette to SEMA