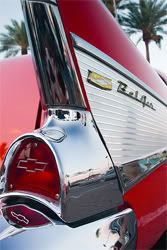 If you ever frequent any classic car shows or cruise-in's there is one question you are sure to hear over and over. It is not the most polite of questions, but it still finds its way into conversations. "What's it worth?" Ofcourse the simple answer in return is, "whatever someone is willing to pay me for it… within reason."
The Wall Street Journal is reporting that as a reflection of the current economic downturn in the United States, and much like the housing market, the classic car market is feeling the pinch. But just as it is the middle class that is most effected by the economic crunch, so too it is the mid-ranged classic car that is most effected.
Mass produced and fairly accessible cars like the Chevrolet Bel Air and Ford Mustang are just two samples of mid-ranged classics that fall in the $30-50,000 range. It is reported that those cars are suffering up to a 1/3rd drop in their value as sellers come down in price to meet a shrinking demand.
In some regard it is the classic car market righting itself from a decade where even the lowly six-cylinder models were fetching prices never before seen by buyers with borrowed cash who were fledglings in the classic car market. Those buyers who were using home-equity for their classic car shopping spree are now finding those loans more difficult to come by.
However, not everyone is suffering from the limping market. Serious antiques collectors and "Big Game" shoppers with cash to spend are still finding plenty of top dollar classics to fill their garages with.
Just like in the housing market those with the available funds to spend can come across some decent mid-range bargains in the classic car market. Sellers who are looking to move on to that next project or hoping to move up to that next level of classic… the specialty cars, are the ones who will be losing in the deal. Then again as long as those classics are still around and being cared for we are all a little better off no matter what the market does.
Source[WallStreetJournal]