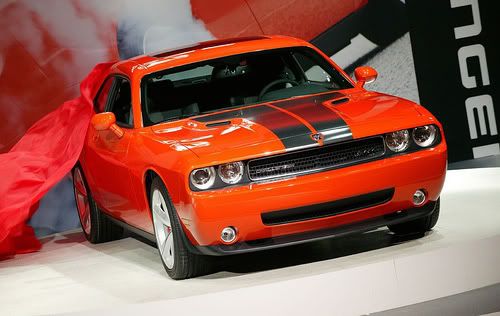 It has been 2 years since Dodge first exposed the Challenger Concept to the world at the Detroit Auto Show in 2006. Chevy introduced their new Camaro Concept that same year, but it is Dodge that is beating them to the show rooms with their Retro Revival. At this years Chicago Auto Show Dodge has officially unveiled for the first time their production model Dodge Challenger SRT8 after months and months of sneak pics and teaser samples. Ofcourse sales for the once fabled classic have been going on well without official pics or specs as some are reporting that all 6,400 models to be produced this year are all already spoken for. We had reported before on the premiums of up to $20,000 being stacked on top of the $40,095 MSRP*.
However, now it is all about getting that first look of the production version of the Dodge Challenger SRT8 and its 6.1 liter Hemi engine. All of the 6,400 models for this year will be the 425-hp, 420-torque SRT8 package with more variants to follow in the next year. For 2009 there is a smaller 5.7 liter V8 model, the R/T, a V6 version and potentially a convertible model for the Challenger on down the road. As production hits full-steam Dodge expects to sell between 20,000 and 30,000 Challengers a year.
Check out the Large Gallery of Pics and Press Release below
For the first run of Challengers in 2008 there will be 3 colors available: HEMI® Orange, Bright Silver Metallic and Brilliant Black Crystal Pearl Coat. On the hood you will find black carbon-fiber-esque stickering to accent the molding and non-functional air-ducts on the hood. Within the cockpit of the car you will find such modern conveniences as key-less entry, GPS Navigation, Dodge's MyGIG infotainment system and their hands free communication.
The seats and styling of the interior appear comfortable but are not overly flashy. Ofcourse there was nothing overly flashy in the original Dodge Challengers interior, so when stepping into a Challenger one should not be expecting Mercedes-Benz or even Chrysler type styling. For the Muscle Car enthusiast it was more about what was under the hood than what was on the dash.
With all the talk and effort that has gone into the Dodge Challenger it is pleasing to see how much they remained loyal to the original concept car from 2006 when reaching their final production version. For those who follow the adage that Seeing is Believing we have an extensive Photo Gallery below and Dodge's official press release down below. So check them out and let us know… Is the Challenger the hit everyone thinks it is or has the need for Green pushed us passed the time for a Muscle Car revival?
[myginpage=02082008-chalsrt8]
Source[Dodge]
PRESS RELEASE:OVERVIEW
The Ultimate Modern American Muscle Coupe

All-New 2008 Dodge Challenger SRT8®

– Iconic Dodge muscle car returns after a 35-year absence
– Design stays true to Challenger heritage while delivering a host of modern amenities and "race inspired, street legal" SRT DNA
– Powered by a 6.1-liter HEMI® V-8 engine that produces 425 horsepower and 420 lb.-ft. of torque
– Each 2008 Dodge Challenger SRT8 features limited-edition, numbered dash plaque

The return of the iconic Dodge Challenger brings what pony car fanatics crave: ground shaking performance, unmistakable design cues reminiscent of the original Challenger, world-class ride and handling characteristics and benchmark braking. On top of that it features a wide variety of modern amenities and technology designed to delight a new generation of driving enthusiasts.

"The all-new Dodge Challenger SRT8 is engineered to give customers everything they want in a modern muscle machine," said Mike Accavitti, Director – Dodge Brand and SRT Global Marketing, Chrysler LLC. "The new version of Dodge's American classic boasts tire-smoking performance and head-turning design while offering a wide array of state-of-the-art technology, such as GPS navigation, 'Keyless Go' entry, a MyGIG™ infotainment system and UConnect hands-free communication."

Developed by Chrysler's in-house performance engineering organization, the 2008 Dodge Challenger SRT8 was engineered with a focus on the five pillars of every SRT vehicle: bold exterior design that resonates with the brand image, a race-inspired interior, world-class ride and handling across a dynamic range, a standout powertrain and benchmark braking.

Dodge will offer the limited-edition 2008 Dodge Challenger SRT8 in three colors: HEMI® Orange, Bright Silver Metallic and Brilliant Black Crystal Pearl Coat. Each two-door, rear-wheel-drive coupe will be produced with a numbered dash plaque, carbon fiberlike hood stripes and will be powered by SRT's 6.1-liter HEMI V-8 engine that boasts 425 horsepower and 420 lb.-ft. of torque.

With a U.S. Manufacturer's Suggested Retail Price (MSRP) of $37,995 (including $675 destination), the all-new 2008 Dodge Challenger SRT8 arrives in Dodge showrooms this spring.

The 2008 Dodge Challenger SRT8 vehicles will be manufactured at Chrysler's Brampton, Ontario, Canada assembly plant.

Performance targets for the all-new 2008 Dodge Challenger SRT8 include a 0–60 mph time in the low 5-second range, 0–100–0 mph in less than 17 seconds, a ¼-mile elapsed time of less than 14 seconds, 60–0 mph braking distance of approximately 100 feet, and a skid pad performance of 0.88 g.