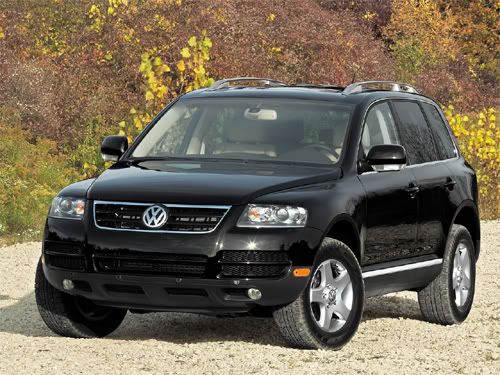 The American Council for an Energy Efficient Economy (ACEEE) has released its 11th annual Top 10 listing of the Meanest and Greenest vehicles for 2008. Basing their rankings on results derived from what ACEEE calls a "Green Score", "a singular measure that incorporates unhealthy tailpipe emissions, fuel consumption, and the emissions of gases that cause global warming." Coming out on top of 2008's Green list for the second year in a row is the limited production Honda Civic GX. Running on natural gas, which burns cleaners than gasoline, and averaging 39 mpg the Honda Civic GX is surely clean, but virtually impossible to buy.
Running the dubious honor of being #1 as 2008's Meanest car is the VW Touareg. With fuel ratings at or below 20 mpg from all 3 engine variants (the diesel is rated at 20 mpg highway), yet still in the mid-to-high teens, there would seem meaner vehicles on the market. Part of what brought down the score for the VW Touareg would be its diesel engine's emissions results. With higher nitrogen oxides and particulate matter being emitted from the tailpipe the VW Touareg TDI is a top ranked polluter according to ACEEE.    …Full Top 10 Lists and Press Release after the link…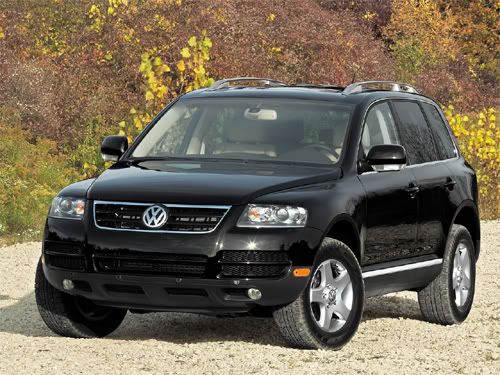 Vehicles like the Bugatti Veyron, which comes in at #2 on the Meanest Top 10 list, are cars that sell in small numbers and see limited driving as compared to other Mean finalists like the GMC Yukon 2500 that drives in at the Meanest #10 (better luck next year). However, sales figures, driving style and average mileage driven per year are not configured in on the Green Scores.  
One small cause for celebration is that a North American car has cracked into the Top 12 Greenest vehicles list. The Ford Focus (inspite of its lackluster design) reached the highly coveted #9 position for their 2008 model… "that's a single digit, baby!" The remainder of the Green vehicles listing is rounded out with a collection of hybrids and teensy small cars with tremendous fuel economy. While these small cars achieve impressive fuel economy they are not quite as practical for a family of four.
Arriving this year in some makes and models is what is being called the "fifty states" diesel. They are diesel engines that run leaner and cleaner than the current variety and may give a family sedan or a small sedan like the VW Jetta "fifty states" TDI (due out in 2008) a chance to break into the Top 12 in 2009.
For scores beyond the Top 12 rankings you can go to the ACEEE website and begin your research on their 2008 results. If you are considering a new car purchase in 2008 it might be the kind thing to do; that is to check the environmental impact of your car purchase.
Greenest Vehicles of 2008
Honda Civic GX
Toyota Prius
Honda Civic Hybrid
Smart ForTwo
Toyota Yaris
Nissan Altima Hybrid
Toyota Corolla
Mini Cooper / Clubman
Ford Focus
Toyota Camry Hybrid
Honda Civic
Honda Fit
Meanest Vehicles for the Environment in 2008
Volkswagen Touareg
Bugatti Veyron
Mercedes-Benz GL320 CDI
Jeep Grand Cherokee
Mercedes-Benz R320 CDI
Lamborghini Murcielago / Murcielago Roadster
Mercedes-Benz ML320 CDI
Mercedes-Benz G55 AMG
Hummer H2
GMC Yukon 2500
Bentley Azure
Bentley Arnage
Press release:

Natural Gas and Hybrid Vehicles Still Stars, Diesels Still No-Shows in Annual Ranking of Top Eco-Friendly Vehicles

Washington, D.C. (February 19, 2008): With the auto world focused on fuel efficiency in the face of $100-per-barrel oil, new fuel economy requirements, and concern about climate change, the American Council for an Energy-Efficient Economy (ACEEE) today named the year's "Greenest" (http://www.greenercars.org/highlights_greenest.htm) and "Meanest" (http://www.greenercars.org/highlights_meanest.htm) vehicles, along with environmental scorings of all model year 2008 cars and passenger trucks. This announcement marks the eleventh year ACEEE has published its widely-respected rankings. The vehicle scores are part of ACEEEs Green Book* Online, ACEEEs environmental guide to cars and trucks, available at www.greenercars.org.

Earning the "greenest vehicle" title for the fifth consecutive year is Honda's natural gas-powered Civic GX. Hybrid-electric vehicles also continue to perform well in ACEEE's annual ranking, despite being disproportionately affected by changes to the U.S. Environmental Protection Agency's fuel economy calculations. The Toyota Prius and Honda Civic Hybrid claim spots two and three, while the highly-anticipated Smart Fortwo Convertible and the Toyota Yaris complete the top five, showcasing the environmental benefits of smaller passenger vehicles. Others on the "Greenest" list include conventional and hybrid-electric vehicles from Honda, Toyota, Mini, and Ford. The 2008 Ford Focus comfortably takes the 9th spot in ACEEE's annual ranking, reversing last years shutout of domestic manufacturers.

"Hybrids stand out, even after being taken down a notch by the new fuel economy calculations," said ACEEE vehicle analyst Shruti Vaidyanathan. "And sales rose by a whopping 40% last year. This interest in hybrid vehicles should shine the spotlight on other green vehicle technologies that can significantly improve fuel efficiency."

Widely regarded as the pre-eminent buyers guide to environment-friendly passenger cars, trucks, and SUVs, www.greenercars.org provides the facts necessary to examine the eco-performance of any 2008 model. Vehicles are analyzed on the basis of a "Green Score," a singular measure that incorporates unhealthy tailpipe emissions, fuel consumption, and the emissions of gases that cause global warming.

This year's "Meanest Vehicles for the Environment" list is dominated by European imports; only three domestic models make an appearance. Diesel-powered vehicles continue to perform poorly on ACEEE's annual ranking due to the high levels of environmentally damaging nitrogen oxides and particulate matter they release, despite greater fuel efficiency. The eagerly-awaited "fifty-state"diesel that should greatly boost these vehicles' environmental scores is still missing in this year's offerings. Once again, the diesel-powered Volkswagen Touareg receives the dubious honor of being the year's most environment-unfriendly vehicle, leading a pack of diesel-powered vehicles that includes the Mercedes-Benz GL320 CDI, R320 CDI, and ML320 CDI, and the Jeep Grand Cherokee. Rounding out the "dirty dozen" are low sales-volume sports cars and heavier vehicles: the Bugatti Veyron, Mercedes-Benz G55 AMG, Hummer H2, GMC Yukon 2500, Bentley Azure, and Bentley Arnage.

"We're looking to diesels to help reduce global warming emissions, yet they're still hanging out at environmental rock bottom," said ACEEE Transportation Director Therese Langer.

The www.greenercars.org Web site also identifies a selection of top widely-available models in each vehicle class. This "Greener Choices" (http://www.greenercars.org/highlights.htm) list includes larger vehicles, such as the Toyota Tacoma, Nissan Frontier pickup, and the Chevrolet Tahoe Hybrid C1500. Passenger cars such as the Honda Fit and Hyundai Sonata also top their respective classes. As the list demonstrates, consumers can make "greener choices" whether they need a sedan, minivan, pickup truck, or SUV.

"The 'Greener Choices' aspect of the Green Book is good news for U.S. automakers, because it shows that higher-mileage choices are available in all vehicle classes," said ACEEE Policy Director Bill Prindle. "By moving new designs toward the best performers in each class, automakers can get a head start on meeting Congress new fuel economy standards."

In addition to highlighting the year's "Greenest," " Meanest," " Greener Choices," and best-in-class lists, the www.greenercars.org Web site contains informational write-ups on model year 2008 highlights, a consumer primer on vehicles and the environment, and advice on how to buy green when shopping for a new car or truck.

Summary "Green Scores" of the 1,300+ configurations of all model year 2008 vehicles are made available to subscribers of ACEEE's Green Book* Online interactive database along with each configuration's fuel economy, health-related pollution impacts, global warming emissions, and estimated fuel expenses. Subscribers can also build custom lists for comparing vehicles. Monthly and annual subscriptions to ACEEE's Green Book* Online are available at www.greenercars.org. Press materials are available from ACEEE Publications.

For further information, contact: ACEEE Publications 1001 Connecticut Avenue, NW, Suite 801 Washington, DC 20036-5525 Phone: 202-429-0063, Fax: 202-429-0193 E-mail: aceee_publications@aceee.org Web site: www.aceee.org

The American Council for an Energy-Efficient Economy is an independent, nonprofit research group dedicated to advancing energy efficiency as a means of promoting economic prosperity, energy security, and environmental protection. For more information, see our Web site at www.aceee.org.[Source: ACEEE]