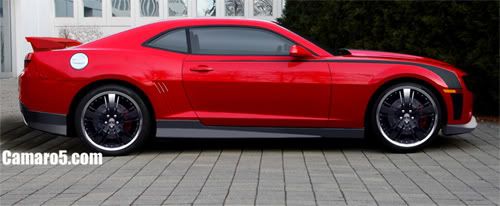 For some new car buyers as the decision is nearing a conclusion on what car to purchase that is when the real shopping begins. With some selective accessories and aftermarket pieces you can either turn your car into a one-of-a-kind show piece or a hideous mobile catalog that piles on accessories like my aunt piles rings onto her little ten fingers (thumbs included).
What you are in-store for below are some photos of the new 2010 Camaro dawning some of the GM Accessories being prepared in anticipation of the cars launch next year. As with any accessories catalog some things may strike you with an immediate "Yes!" while other option choices may curdle your milk if it is sitting too close to the screen. But that is an aesthetic choice that each car owner makes and thus may receive or suffer the praise or ridicule of their friends for.
While we make no claims on the legitimacy of these photos (Adobe Photoshop leaves us all as skeptics), they do provide further teasers to fuel the imagination of what can be with the 2010 Camaro.
Take a look at the Gallery after the leap and then check out the video from GM's Accessories division for more information about how they come up with their products.
[myginpage=03272008-camaro5]
Source[Camaro5 via Jalopnik]