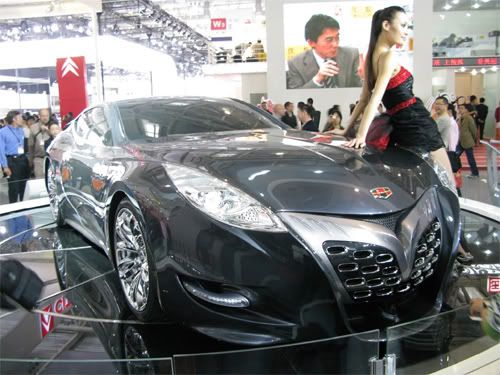 Chinese auto maker Geely has unveiled its sporty coupe concept the Tiger GT at the 2008 Beijing Auto Show going on in China as we speak, and the crowds around it have been rather constant. Geely is more known for producing the small, economy rides that the general Chinese population is buying. With the Tiger GT Geely is stepping up their aim as a builder of automobiles.
There are some things that appear familiar about the Geely Tiger GT. The vented from grill resembles the shield design on the Suzuki Kizashi, but has been commented by others to resemble a Chinese mask. By the general mold of the car it would appear that the Tiger GT is looking to challenge the likes of Maserati and Aston Martin. While such a challenge may be years (or generations) away it is nice to have such aggressive ambitions to provoke a response out of the rest of the auto industry.
…Explore the Large Gallery of Photos after the Leap…
Another feature worthy of note are the fangs that find their place at the front and back of the Tiger GT. Is Geely tapping into the heritage of the tiger mystique from Chinese culture? The tiger is a powerful animal and the Tiger GT's shapely influence and strong figure would seem to mimic that animal in spirit. However, that spirit may wane when the throttle is administered. According to the Geely specs sheet the Tiger GT is powered by a 3.5 liter V6 that produces a scant 225-hp and 340-ft lbs of torque. Not quite what a super-coupe shopper would be looking for. 
The Tiger GT is a breakthrough in Chinese automotive design for a nation whose auto industry is still just revving up and gaining more international attention. Geely has reportedly unveiled 20 new designs at this years Beijing show and has made 3 appearances in the Detroit Auto Show. While econo-wheels may be their bread-and-butter vehicle for the Chinese market their Tiger GT design may be their way of reaching out to foreign auto makers in hopes of making a connection and possibly future partnerships.
Take a look at Geely's Tiger GT and tell us what you think. Does Geely have the Tiger by the Tail or are they maybe just a distant automotive explorer trekking on refined foreign soil?
 [myginpage=04222008-tigergt]
All photos Copyright ©2008 Bin Chen / Weblogs, Inc.
Source[autoblog chinese via autoblog]