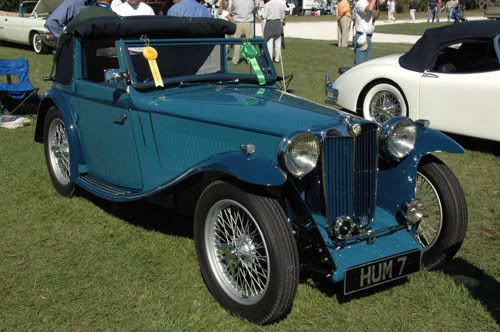 This stunning blue 1939 MG TB was the recipient of numerous honors at this years Hilton Head Island (HHI) Concours d'Elegance on Honey Horn Plantation. Already with in possession of a Best of Class award from the 2006 Amelia Island Concours and a Best of Show award out of a field of 380 MG's in Gatlinburg, the HHI judges bestowed just a few more on this exquisite exhibitor. For 2007 this Historic survivor from a pre-war era was awarded a Palmetto ribbon for excellence, a Driving Tour award and at the end of the day it received Best of Class honors yet again.
The 1939 MG TB on display at Honey Horn Plantation has had quite a journey before reaching the hands of Leonard and Suzie Star of Hudson, Ohio. It was only 1 of 60 Tickford bodied cars built in 1939 before the UK entered the war and all automotive plants made the switch to building munitions. Of those 60 MG TB's there are only 25 remaining in existence today. There had been 5 owners over the last 38 years of this particular car, including some time over in Australia, before the Star's acquired the car and had it shipped tot he states in 2002.
There are more honors to come for this Historic 1939 MG TB but for now just enjoy some photos of this old charmer.
[myginpage=11042007-hhic]